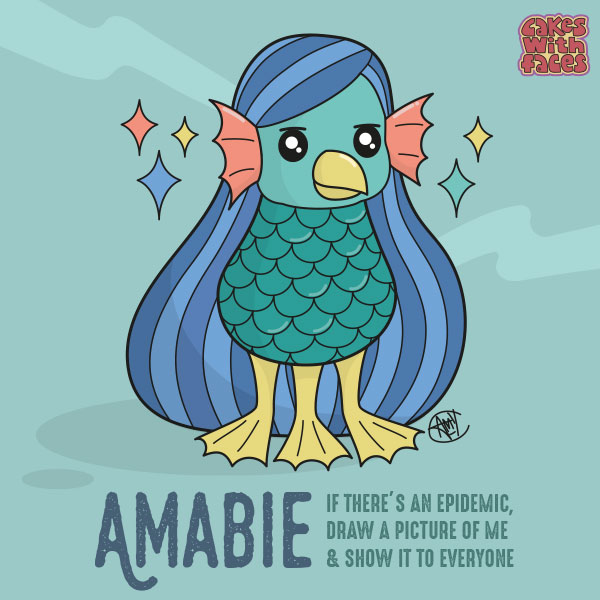 Amabie
The Amabie is a Japanese yokai (monster). If you draw a picture of it and show everyone, it's said to help stop an epidemic. So here's my contribution!
NB: Probably still important to keep washing your hands as well…
Japanese Mythology
I heard about this in an interesting article on Spoon and Tamago. As well as curing people when there's an epidemic, the amabie also appears to prophecy good harvests.
Here's a drawing of it from the Edo period: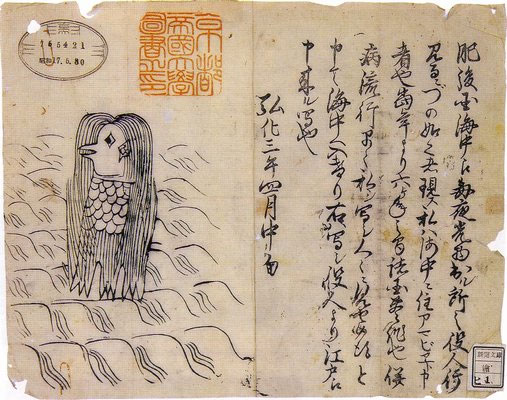 ---
UPDATE: Stickers and Badges
You can now get my Amabie drawing on vinyl sparkle stickers and holographic badges, available here in the online shop (worldwide shipping).
---
Rough Sketch
It comes from the sea, and is said to have a beak, long hair, three legs and be like a mermaid. I figured it must have webbed feet, to help it swim in the sea.
Here are my rough sketches working out my take on the monster (I knew it had to be cute!):

Amabie on Instagram
Lots of Japanese artists are joining in and drawing their own versions of the Amabie. You can find them with the hashtag #アマビエ on Instagram and Twitter. It's fun to look through them all and see all the different styles! A lot of them are pretty cute, and there are some creative ideas:
There's even a pattern for how to make a felt amabie: