My favourite type of shrines in Japan are inari shrines – they're the ones with the red gates. I drew this pattern inspired by Japanese shrine imagery. I wanted it to be really bold and graphic, but with traditional motifs.
The background's inspired by traditional Japanese kimono patterns. They all have names and meanings. I've been interested in Japanese symbolism recently, like how the carp streamers (koinobori) for Childrens Day represent how parents want their children to grow up strong, like carp swimming upstream against the current. There's one in the pattern if you can spot it!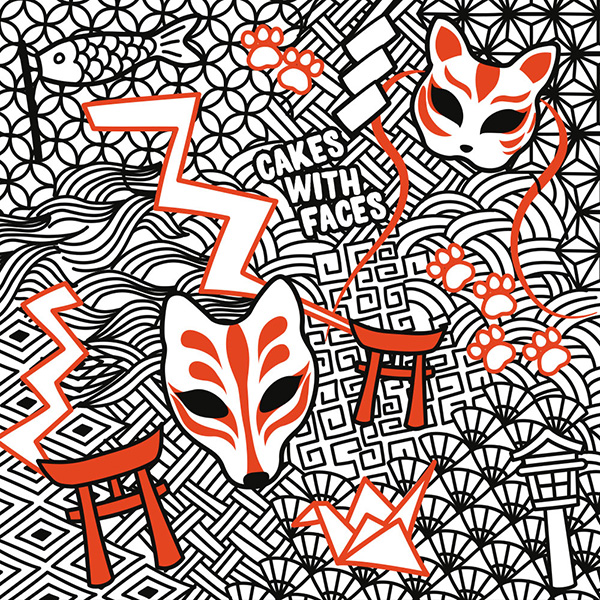 Inspiration: Japanese Inari Shrines
I love the imagery of inari shrines, with the red gates, lanterns and fox statues. The bright red stands out so much against the natural greenery.
Foxes, or kitsune, are said to be messengers. They're also thought to like tofu – which must explain why tofu sushi are called inari, and inari shrines have fox statues!
This photo's from the shrine I visited in Dazaifu, in Kyushu. More about that here…
Fushimi Inari Shrine
The most well-known inari shrine is Fushimi Inari in Kyoto – that's the famous one with hundreds of red gates. Here's my vlog from when I visited – it was definitely the highlight of my time in Kyoto. We stayed until it got dark, and it was so atmospheric at night time. It's said to be haunted (which might be why it was quieter in the evening!) but we didn't see any ghosts! There were a couple of cats though…
Alternate Version
I also made this alternate version of the pattern, with the red just used for highlights, for a more subtle look. The original version's my fav, with the bold red gates.

If You Like Japan…
Take a look at my designs in the shop – there's t-shirts, dresses, pins and accessories, and lots of them are inspired by my travels in Japan. They're all my original designs, only available at Cakes with Faces (worldwide shipping):