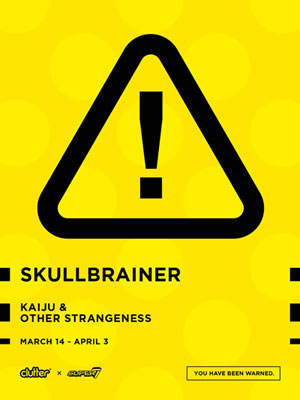 We're really excited to have a piece in an art show in New York! The Skullbrainer art exhibition will be at The Clutter Gallery in New York, opening on 14th March.
Skullbrainer Kaiju Art Show
The art show, called "Skullbrainer: Kaiju and Other Strangeness" focusses kaiju themed graphic artwork, custom figures and designer vinyl toys. It's organised by The Clutter Gallery and Super7.
Clutter Magazine and Gallery
The Clutter Gallery is run by Clutter Magazine, one of our absolute favourites – it's full of awesome colourful character artwork and figures. Plus the founders were originally from the UK (by chance, the same city we're in!) and are now based in New York. Definitely check it out – last year they made it free, distributed in the USA and free to read online. They're celebrating their 10th anniversary, and have just gone monthly – read the latest issue.
I remember drooling over all the awesome artwork in Clutter before starting Cakes with Faces, so now it's amazing to be involved with one of their shows!
KaiJuice
My piece for the Skullbrainer show is called "KaiJuice". Rather than a straight design of a kaiju (which admittedly would be awesome), I decided to do my own take on the theme. If you've been following my work you'll know how much I love puns and playing with words, so I came up with a fun idea for kaijuice! 100% oishii!
The piece is a one-off print of digital vector artwork. I'm really happy with the colour scheme – it's extra bold and vibrant, with juicy tropical colours!
It's a giclee print on box canvas, signed and numbered 1/1 by hand, and is limited to just one exclusive print for the show at Clutter. Thank you to our friends at Canime for handling the printing – the colours have turned out really vibrant and the quality of the print is amazing. Canvas prints often lack vibrancy, but this has come fantastically.
Art Show Opening
The Skullbrainer art show will have an opening reception on 14th March from 6-9pm at The Clutter Gallery (163 Main Street, Beacon, NY).
The exhibition will run until 3rd April. Artwork from the show will be on sale at the gallery and on the Clutter website.
It's great to part of the show, and I'd love to be involved in more art shows in the future – provided they're colourful, cute or monster-related!
Follow Cakes with Faces to see more of my artwork, and don't forget to check out my designs in the shop!