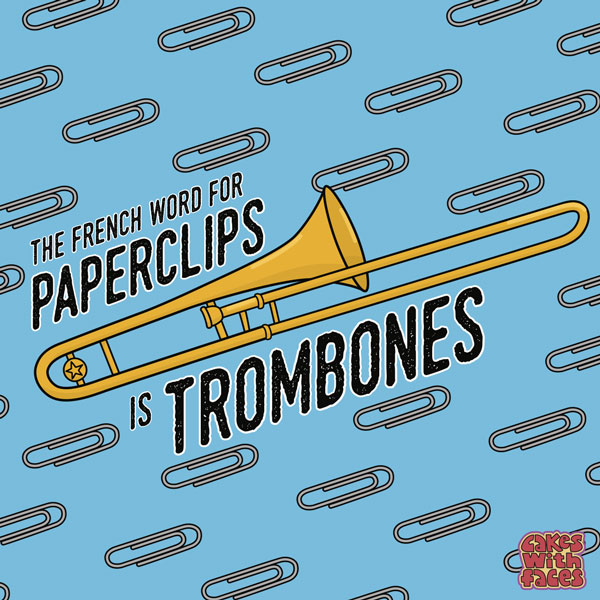 The French Word for Trombones
One of my new favourite facts!
I learnt it from a tweet showing a box of paperclips with the text in multiple languages, so it can be sold in various countries without reprinting the packaging. I had to check if it's really true, and yes – the French word for paperclips really is "trombones"!
Isn't that fantastic? And it kind of makes sense, when you think about the shape. Mini trombones – so cute!
PS: If you're wondering, the French word for trombone is "trombone".
Learning Trombone
This has special significance for me because this past year I've been teaching myself trombone. I love ska punk – it's the happiest, most fun type of music – it can't help but put a smile on your face. I've always thought the trombone's the best instrument in a ska band. And Phil's band (Those Fine Strangers) wanted a trombonist to complete their horn section.
So I've been teaching myself, since about April last year. I've never played a wind instrument before, and at first I was worried about being able to blow raspberries for that long. But it's not a problem at all. It's not even that difficult to learn the slide positions; the hardest part is getting a good tone.
Learning an instrument's a real rollercoaster; you can learn so much about yourself. The frustration of not being as good as you want to be, embracing being bad at it to start with but practicing anyway, the tiny improvements you make every day and the achievement when you finally manage to play something you couldn't before.
I've really been enjoying it – aside from anything else, it's pretty satisfying to make such a big noise. Since the autumn I've been going to band practice. In November I played three songs in a gig (which I never thought I'd do!). I always thought I'd be nervous playing in front of people, but it wasn't scary at all. And last week I played the whole set at a gig – just at a local pub, but it was a big thing for me!