Usually at this time of year, designers and brands are telling you about how much exciting stuff they have planned for you over the next year. The truth is that the final part of 2015 has been so busy that I don't have many plans for 2016 yet! There are still hundreds of things that I want to do (as always!), but I've been focussing on everything that's been going on recently, the busy Christmas rush, preparing for shows, making sure things run smoothly and everyone gets their orders quickly. And even having a break to relax, eat chocolate and watch films (how Christmas should be!).
It was the same last year, and when I look back at 2015, the best things that happened were surprises that I hadn't even dreamed about at the start of the year!
So before I start scheming and planning for 2016, here's a look back at 2015. It was Cakes with Faces' best year ever, and some really amazing things happened. Thank you so much for all your support – I really couldn't carry on doing this without you. Your support and orders truly are the (only) reason Cakes with Faces is here today – THANK YOU!
1) The Alpacalypse Started!
2015 really has been the year of the Alpacalypse. It started as a design I drew for fun back in January, and it got such a good response on Facebook that I made it into a t-shirt and hoodie. It's been our most popular design ever, and with international orders too, the Alpacalypse truly is spreading across the world! I'm so glad so many people like my design – it was fun to draw and create a new take on cute, fluffy alpacas.
I even saw the alpacalypse for myself when I visited an alpaca show, which was certainly a unique experience, with literally hundreds of real alpacas. See it for yourself in my video!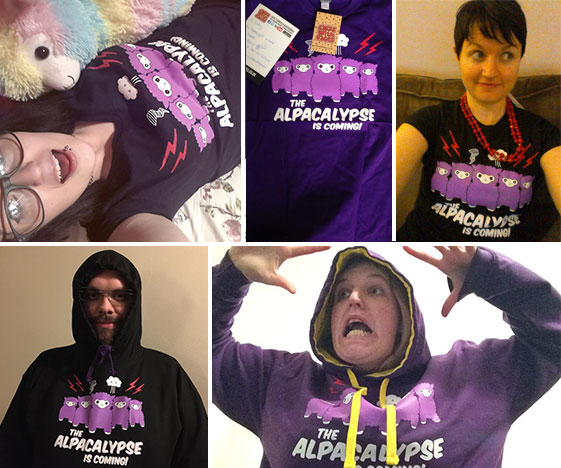 2) Art Shows in New York, Florida and London
My artwork was on show in the USA at the Clutter Gallery in New York and Slushbox Gallery in Florida. The New York show was kaiju themed, and I designed a on-off giclée box canvas print called "KaiJuice", with a cute, round kaiju splashing out from a juice box. "Fresh from Tokyo: 100% oishii!". I love Clutter magazine, which features colourful and awesome graphic art and figures, so it was amazing to have my work on show at their gallery.
I also created a piece for a geek themed show at Slushbox Gallery called "Nerdcore III: The Geek Strikes Back!". My piece was called Akihabara Nerd Paradise, with my favourite things from Akihabara in Tokyo: gachapon, anime figures, karaoke, maid cafes, arcades and UFO catchers. I themed the colours around the colours of the buildings in Akiba, with the katakana vertical signs that are so evocative of Tokyo.
Finally I created two custom Lunartik Mini Teas for Fans of Tea series 4, organised by Flatties. I've been part of Fans of Tea before, and love Matt JOnes' designs. My teas were Tea Tone, inspired by two tone ska music, which is from Coventry where I live, and Oc-Tea-Pus, a mutant monster in neon colours! The figures involved more sculpting than I'd done before, and I was really pleased with how they came out. You can see how I made them in my time-lapse video. The teas went on show on Matt JOnes' booth at ToyCon UK in London.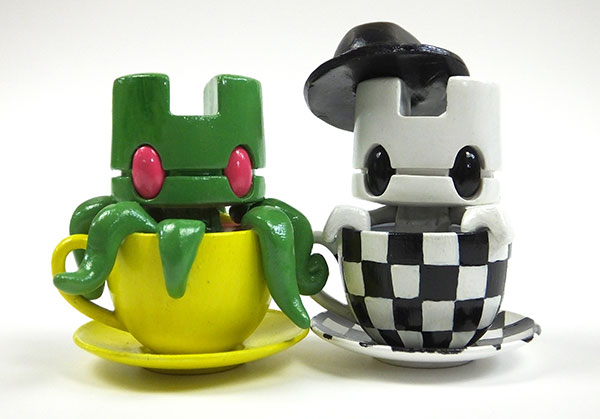 3) The Big Hoot
It was amazing to be part of The Big Hoot, a huge art exhibition in Birmingham with 89 large owls painted by artists, dotted around the city, as well as owlets painted by schools and community groups. The owls were on display for 10 weeks over the summer, before being auctioned to raise money for Birmingham Children's Hospital.
My owl was called Tea T-Owl, covered with tea-time treats (with faces!) and a checked tea towel background. It took over 70 hours to paint him, over the course of a week. It was certainly intense, especially as I started painting the day I got back from Tokyo, fighting through the jet lag!
It was great to join other artists at the painting studio in Birmingham, and finally to see the other owls at the opening night. There are some amazing designs, in so many different styles. I filmed a time-lapse video to record how I painted Tea-Towel, and you can see the finished owl in-situ in this video. I loved seeing people's photos of my owl and others that I'd seen being painted on Instagram and Twitter – thank you to everyone who sent me pictures.
At the end of the summer, the owls were auctioned, and Tea T-Owl sold for £6,000. This is amazing, and I'm so glad he raised so much for the children's hospital. The Big Hoot was a fantastic project in so many ways, for the artists, the public and families who spent a day out spotting owls, and for the charity.
4) Shows and Events
This year Cakes with Faces exhibited at MCM London Comic Con, Hyper Japan Festival, MCM Manchester, MCM London Comic Con again and Hyper Japan Christmas Market. I also had a mini stall at the Stan Lee Award ceremony, a comic and graphic novel reading scheme for 11-16 year olds, where I presented one of the awards.
You certainly kept us busy – Hyper Japan Festival was our best show ever, which was then beaten by MCM London, then Hyper Japan Christmas was even busier!
It was exhausting, and shows are an unbelievable amount of work – including the preparation for weeks beforehand, and catching up afterwards, as well as lots of early mornings and being on the stall all day (with lots of sugar and caffeine!), but the best part is meeting all of you in real life. It makes it all worth it to meet you and have photos, and chat about my designs, alpacas and Japan! I'm blown away by you guys and how sweet you are, and I love seeing you all at shows, where Cakes with Faces comes to life for the weekend at the stall.
You can see the videos from our other shows on YouTube.

5) I Won a TV Ad
The Alpacalypse was on TV! I won an advert on Sky TV from iZettle, the company that make my credit card reader, in their 15 Seconds of Fame competition. To enter, I made a 15 second video about Cakes with Faces, and my entry was chosen by the judges. The advert was on Sky TV for a week at the start of November.
It was so busy with all the online orders, and we had to upgrade the website with the increase in visitors! But the best part is that so many people saw my designs, who otherwise would never have known Cakes with Faces even exists. It was so strange to think of my advert showing in so many peoples' living rooms, and lovely to get messages from people who'd seen the advert.
I was so glad to have the opportunity to reach people who might not otherwise shop with small businesses. When I was packing up their orders, I realised how important it is to me to show them the personal service that you get from small businesses, and show them what Cakes with Faces is all about. The aim of my designs is to make people smile, and I want everyone to feel special when they receive their orders, and become part of Cakes with Faces.

6) The First Cakes with Faces Tattoo!
One of our lovely customers and awesome supporter of Cakes with Faces (also called Amy) got a tattoo of my artwork! It's of a cute alpaca with a bunny on its back, which I drew specially for her. I'm absolutely blown away and so happy that Amy decided to get a Cakes with Faces tattoo. There was also talk of someone getting a real-life Cattoo… (fake tattoos are available if you want to go for a less permanent version!).
(Sorry about the image quality, it's a screencap from my MCM video!)
7) Amazing Trip to Tokyo
Tokyo is one of my favourite places in the world, and we had an amazing time there this year. I filmed pretty much everything we did, so I could show you on my YouTube channel. The videos have been a lovely way to remember everything, and I've really enjoyed sharing them with you and chatting about Japan in the comments! There are still a couple of vlogs left to go, then I'll be making some "travel guide" style videos to help you if you're planning a trip to Tokyo, and share my tips and advice with you.
You can watch them all on YouTube (remember to subscribe to support my channel and to catch the rest!). I'm already planning my next trip for 2016, when I'm hoping to visit other parts of Japan too!
8) New Stuff
This year I brought out:
Four new cushions
New watches
Hoodies – for the first time!
Cattoos temporary tattoos, with cat designs
Earrings in cute ladybird boxes
A few new charms – including Hamsters in Teacups (now sold out)
Extra special limited edition Starry Night prints (now sold out!)
In t-shirts, there was the Alpacalypse, Illuminatea and Powered by Hamsters. I enjoyed trying out slightly different design styles (the Illuminatea doesn't even have any faces on it – although it does have an eye!). This is fewer new t-shirts than in previous years, because I've been focussing on expanding the range and making more new different items, beyond the t-shirts. Part of Cakes with Faces' mission is to make boring stuff more interesting, and make everyday life more fun and colourful!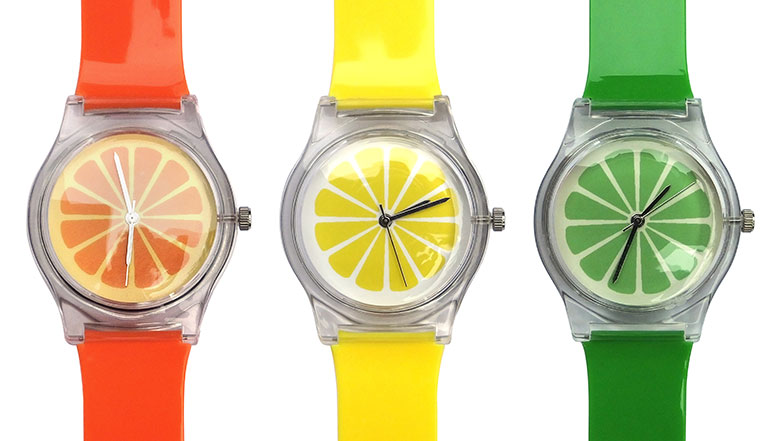 9) I Made Dresses!
Dresses get their own mention because I was so excited about making them! I've been wanting to design Cakes with Faces dresses for so long, and I was so excited to launch them this year. It was a challenge to find a way to get them made to a good quality as well as being reliable and affordable (it's important to me to keep everything in the shop at a reasonable price for you guys). I went through several samples and almost gave up, before finally getting samples that I was happy with.
The Cute Explosion dress is the extra colourful skater dress that I always wanted to make. The dress features a new version of the cute explosion pattern, updated with new characters. This was a challenge in itself, because it's such a busy and complex design, and I wanted to keep the balance and overall style of the original. I feel that this pattern is the heart of what Cakes with Faces is all about, and I love the colourful, fun look.
The Starry Night dress is based on the art print, with cake-themed constellations against a magical swirling galaxy background of stars. I had the sample made by chance, as an extra when I was planning Cute Explosion, and I'm so glad I did, because it turned out to be a really lovely dress. It's flattering and wearable for casual daytime looks as well as for going out. I love how it has so many fun details when you look closely – it's great watching people spot them at shows!
Both dresses are available from the online shop.
10) Nominated for a NEO Award
For the fourth year, Cakes with Faces was nominated for a NEO Award for Best Specialist Company. The awards are run by NEO, the UK anime and manga magazine – I love their magazine and it's an honour to be nominated. We're up against strong competition from our friends at JPU Records and Genki Gear, as well as Japan Journeys, Letraset and other much larger companies. Thank you to everyone who voted for us – fingers crossed – but honestly I'm happy just to be nominated! The results will be out in NEO Magazine in January.
11) Cakes with Faces on YouTube
I've been working hard on my YouTube channel this year, and I've spend a huge amount of time planning, filming and editing videos. I really enjoy editing my videos, and hope you've enjoyed watching them too. As well as my series All the Best Stuff is from Japan, there have been vlogs from Tokyo, videos from shows (some of them featuring you!) and a few others. You can see them all on my channel, to see if you've missed any.
Thank you so much to everyone who's subscribed and watched my videos. As well as receiving notifications about new videos, subscribing shows your support for my channel, and makes me so happy to know you like the videos I've been working on. There's lots more on the way next year!