Cute and casual clothing for Halloween season! Or all year round if you're a "Halloween every day" sort of person…
Worldwide shipping.
Sending a gift? Add a note at checkout to add a special (or spooky!) message for them.
Original designs, only at Cakes with Faces.
Here are my picks for cute, casual Halloween clothes and accessories to wear for spooky season:

Kawaii-ja T-Shirt
A kawaii ouija board! Featuring a black cat and classic oujia board imagery: the sun and moon, alphabet, clouds and stars. Are you ready to be possessed by cuteness?
Screen-printed on a 100% cotton black t-shirt, available in standard/mens and womens slim fit sizes.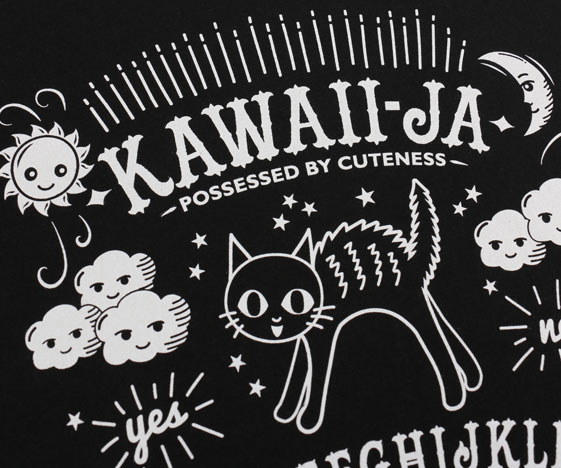 Temporary Tattoos
Cats + tattoos = cattoos!
And there are also battoos! Perfect for Halloween – they're quick to apply and easy to remove with soap and water (and a bit of scrubbing!). If you're careful, they last for ages – even 1-2 weeks.
Each set is an A5 sheet of different tattoo designs, plus tiny bats, stars or paw prints to complete your spooky look!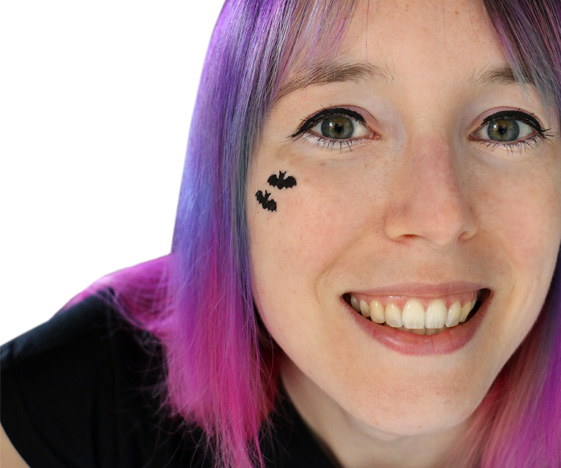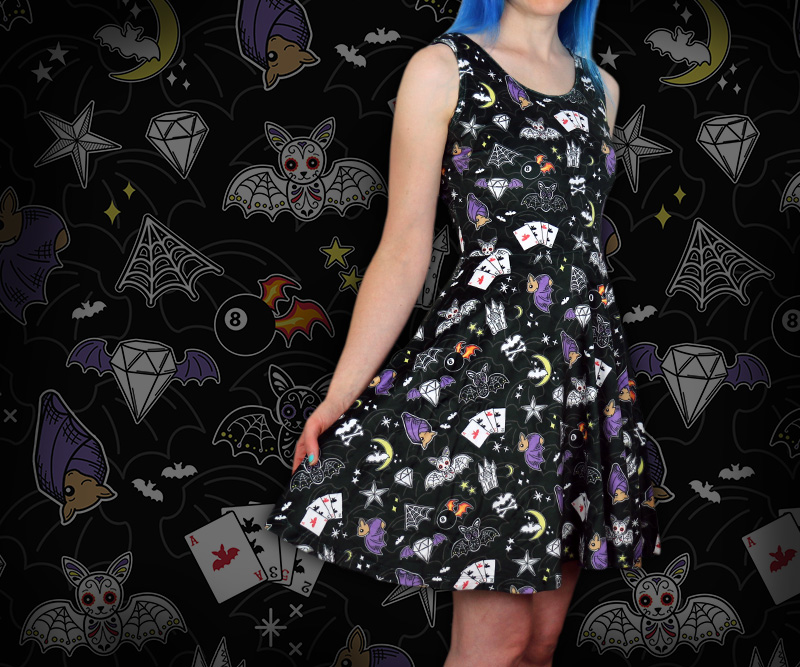 Battoos Dress
Luxurious velvet skater dress with a pattern of bat tattoos. A new, special edition dress for Halloween that you can wear all year round.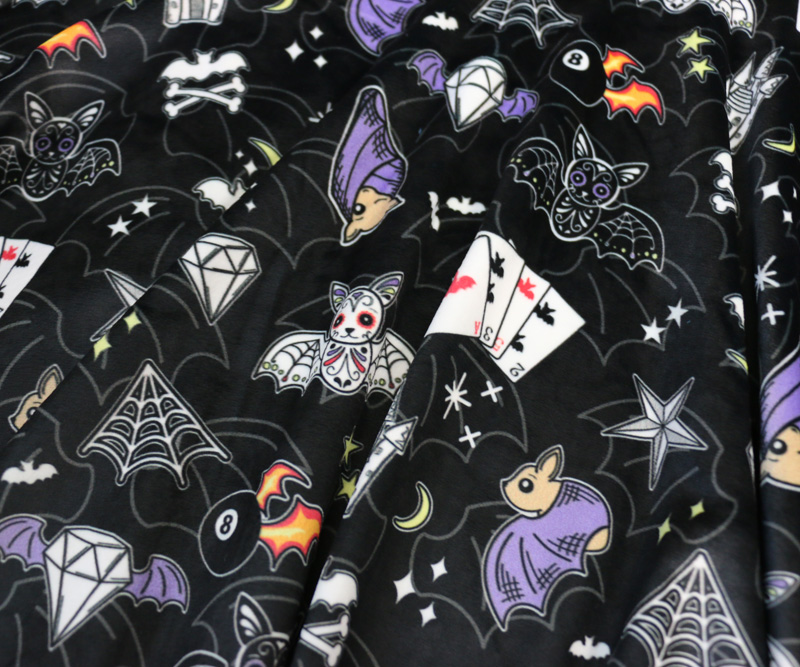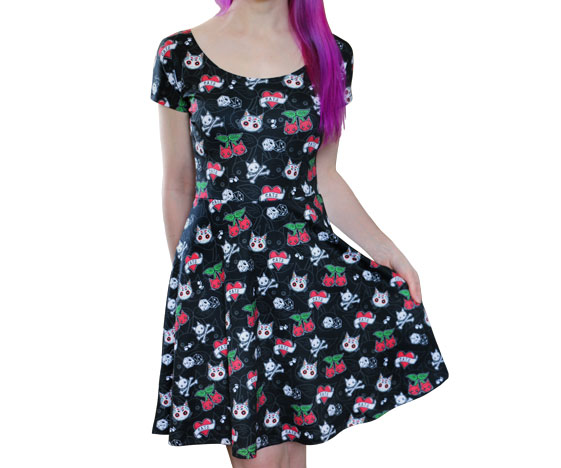 Cattoos Dress
A cute cat dress featuring a pattern inspired by classic tattoo designs – but with cats! Cat sugar skulls, cat cherries and cat skull and crossbones. A comfy skater dress that you can dress up or down, available in UK size 6 – 20.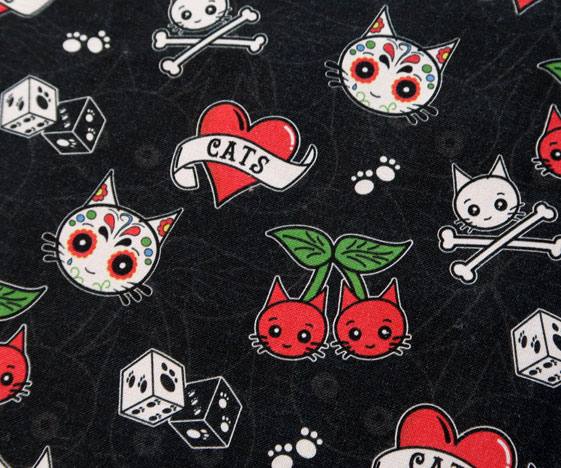 Glow in the Dark T-Shirt
Enjoy glowing in the dark in the super-cute Cuter with Cat Ears t-shirt. The glow-in-the-dark design charges up in normal daylight, then when it's dark it glows a spooky green. It also looks fabulous in UV / black lights!
There are only a few of these left now, so sizes are limited (will not be restocked once sold out).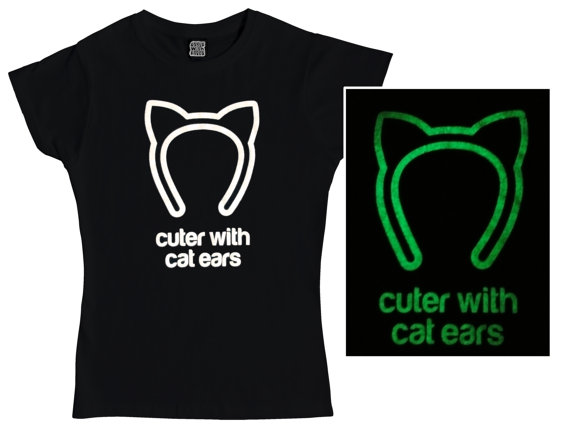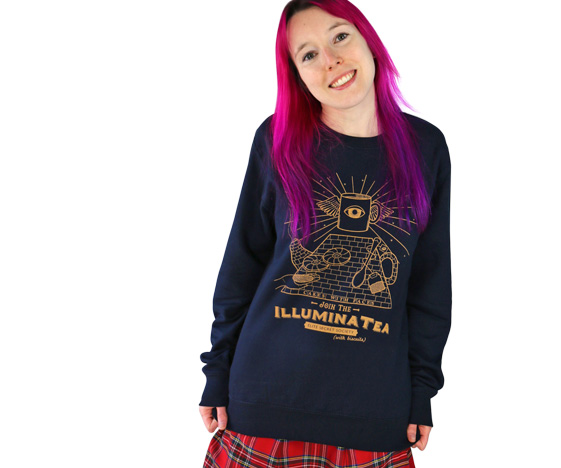 Illuminatea Sweatshirt
Join the Illuminatea! Elite secret society – with biscuits! Cosy, unisex sweatshirt for autumn and winter nights – available in sizes small – 2XL.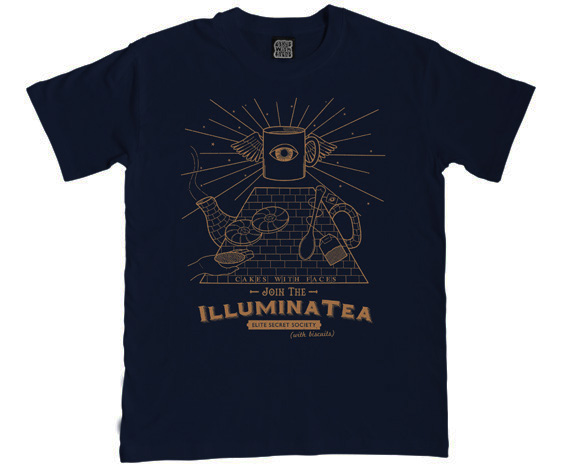 Illuminatea T-Shirt
The Illuminatea design's also available on a t-shirt, in standard/mens sizes and womens slim fit v-necks.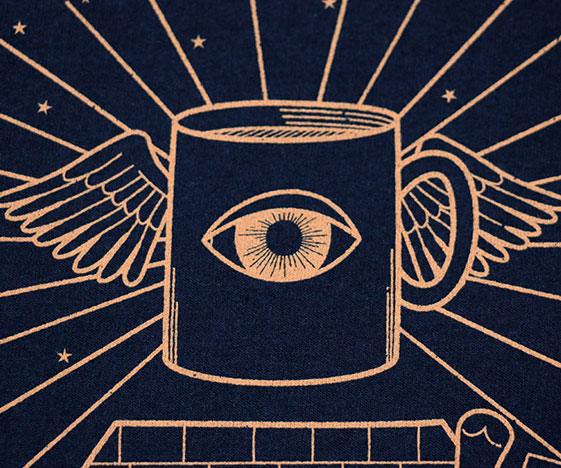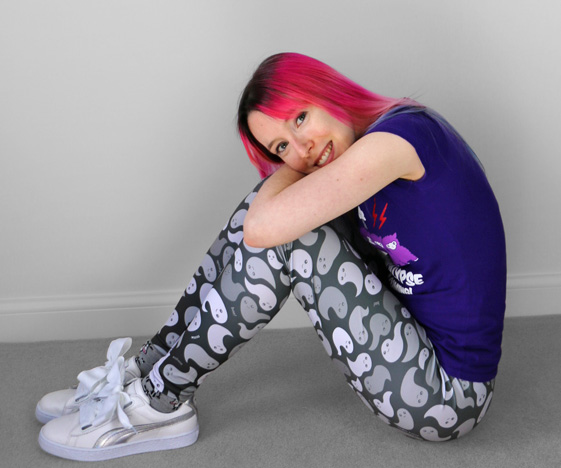 Spooky Ghost Leggings
Happy haunting! Comfy leggings with a pattern of cute ghosts. Look closer to spot a few extra-cute animal ghosts in the pattern!
Limited sizes left – will not be restocked once sold out.

Tarot Cards Tunic
These aren't normal tarot cards! What's in your future… Eternal pain? or The cone of disappointment?
A stylish tunic with an asymmetric hemline, perfect to wear with leggings or shorts. It's made of comfy 90% cotton, t-shirt-like material.
Available in a wide range of sizes from UK 6 to 20.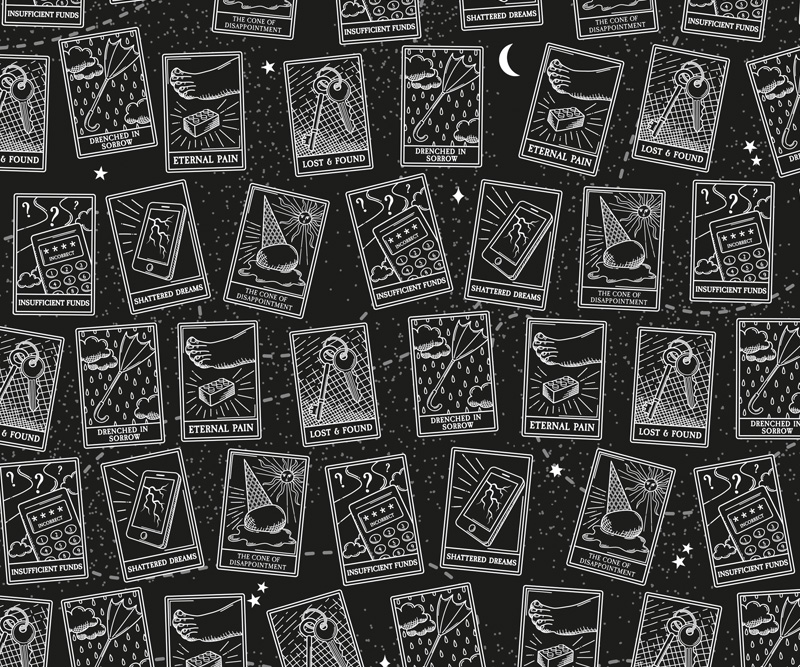 Tarot T-Shirt
Everything will be ok – whatever your tarot reading might say! (And these aren't normal tarot cards…!).
Ultra-soft, eco-friendly screen-print on a 100% cotton t-shirt, in mens and skinny-sit sizes small to 2XL.