Casual day wear for Halloween season! Halloween's such a fun time of year. Did you know that my second choice of name for Cakes with Faces was "Things with Batwings"?
Worldwide shipping.
Sending a gift? Add a note at checkout to add a special (or spooky!) message for them.
Original designs, only at Cakes with Faces.
Here are my picks for casual Halloween clothes and accessories to wear for spooky season:
1) Haunted Ghost Leggings
Comfy leggings with a pattern of spooky but cute ghosts. Look closely and you'll find extra kawaii details in the pattern – like cat and mouse ghosts! Happy haunting! *Only a few left*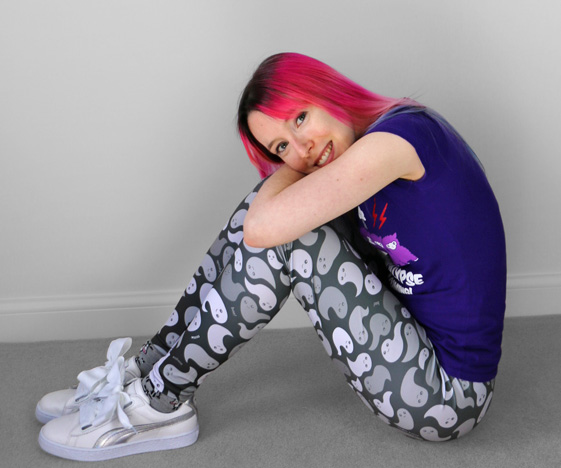 2) Kawaiija T-Shirt
Are you possessed by cuteness? Conjure up the cutest, kawaii spirits with the Kawaiija t-shirt: a kawaii ouija board! Available in standard/mens t-shirts and ladies slim fit, sizes S – 2XL.

3) Battoos: Temporary Bat Tattoos
Temporary tattoos with bat designs! My favourite are the bat sugar skulls, but there's also a spooky castle, moon, cobwebs, galaxy bats and stars. You also get lots of tiny bat tattoos – use them as beauty spots on your face, or have them flying up your arm! Perfect accessories for your spooky outfit.

4) Cuter with Cat Ears T-Shirt
Glow in the dark at Halloween in Cuter with Cat Ears! This is one of my older designs now – when I first designed it I thought "How can I make this better?" – make it glow in the dark! The design's white in the daytime, then it glows green in the dark. Available in standard/mens t-shirts and ladies slim fit, sizes S – 2XL.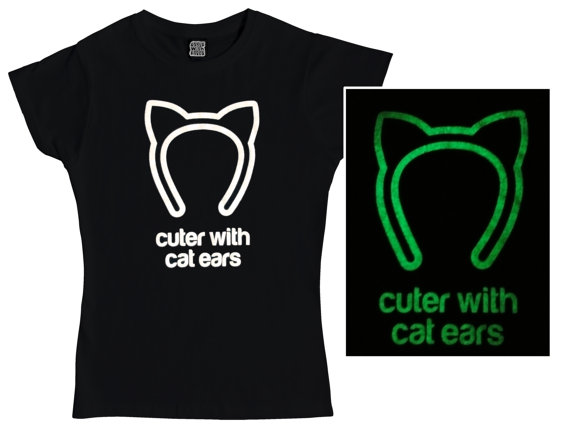 5) Cattoos: Temporary Cat Tattoos
Temporary tattoos with cat versions of classic tattoo flash designs: a cat skull and crossbones, cherry cats, sugar skulls and lots of tiny, cute paw prints. They last up to 2 weeks if you're careful (and remember not to scrub them!). Perfect finishing touch for your Halloween cat costume – it's all in the details!
Buy now

6) Cattoos Dress
Black skater dress with a cat tattoo pattern in alternative, rockabilly style. The perfect outfit for cat lovers. Dress up or down for casual day wear or going out. Available in UK sizes 6 – 20 (measurements in the Size Guide).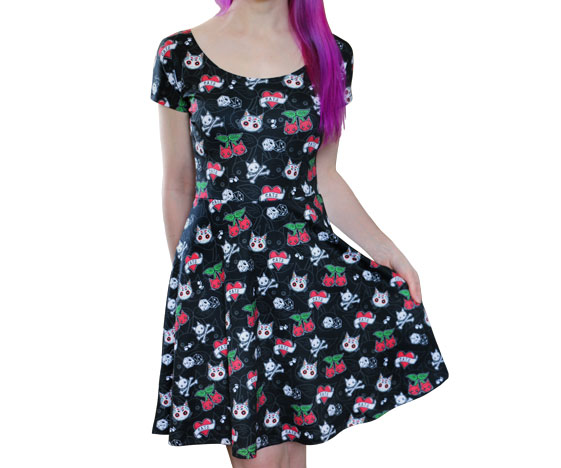 7) Illuminatea T-Shirt
Forget the Illuminati, join the Illuminatea! If you're going to join an occult secret society, best to join one that has tea and biscuits. Because there's nothing more important than tea breaks. Check out the secret symbols on the jammy dodgers… Available in standard mens/ t-shirts and ladies slim fit v-necks, sizes S – 2XL.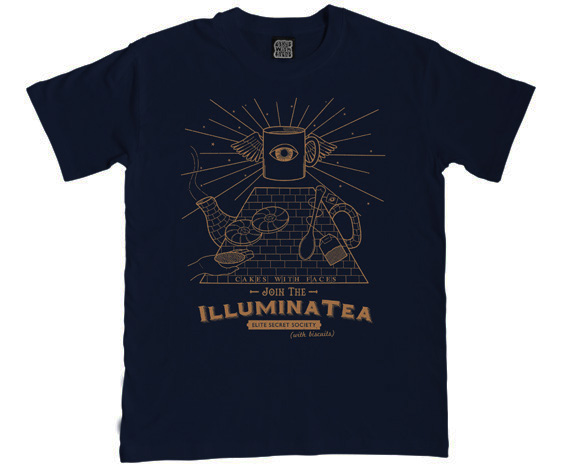 8) Illuminatea Sweatshirt
Even secret society members get a bit chilly on those autumn evenings, so curl up in a cosy Illuminatea sweatshirt! The design's even printed in milky tea colour. Available in unisex sizes Small – 2XL.