Cat Themed Gifts
Round-up of quirky and unique cat-themed gifts presents for cat lovers! 100% original designs they won't have seen anywhere else!
Despatched within 1 working day by Royal Mail First Class or Airmail.
Last date for UK orders: 20th December 2017 (other countries here).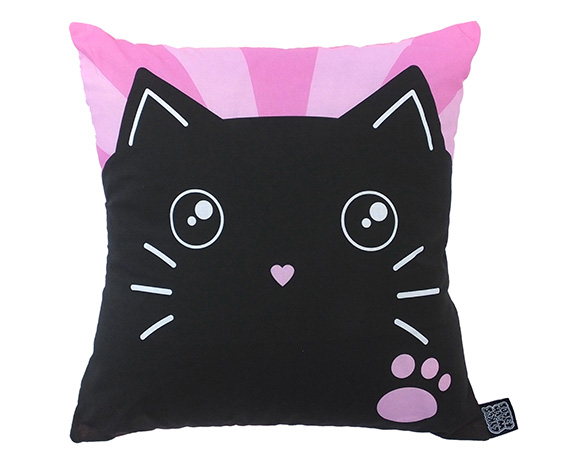 Cute cushion with a cat face, heart-shaped nose, paw-print and pink sunburst background. Makes a great set with our bunny cushion – they look so cute together! Available in the online shop…
Skater dress with a stylish cat tattoos pattern! Dress up or down – perfect for all occasions. UK sizes 6 to 20. Available in the shop…
Up your pin game with a cute cat cherries enamel pin badge. A little touch of cute for everyday outfits – wear on your lapel, bag or add to your pin collection. Available in the shop…
Black t-shirt available in standard/mens and ladies slim fit sizes. Fun cat ears design that GLOWS IN THE DARK! Charge it up in normal daylight and the design glows green in the dark. Available in the online shop…
Temporary tattoos with cat designs! A fun stocking filler – A5 sheet of 9 cat tattoos, along with extra paw prints for a cute finishing touch. Lasts up to 2 weeks (removable at any time with soap and warm water). Available in the shop…
Cat silhouette, reaching up towards birds on telegraph wires, set against a gorgeous sunset background. The colours on this cushion are really beautiful. Stylish design to suit any cat lady's living room. Available in the shop…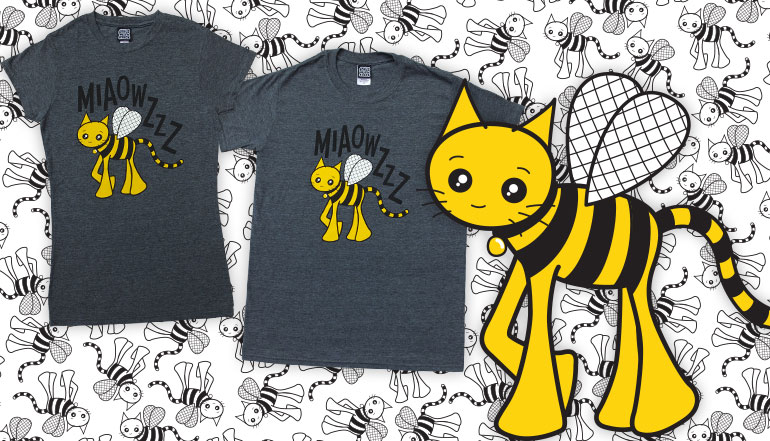 What would you get if you cross a bee with a cat? An adorable bumblebee cat! Flattering soft grey t-shirt, in mens and ladies sizes. Available in the shop…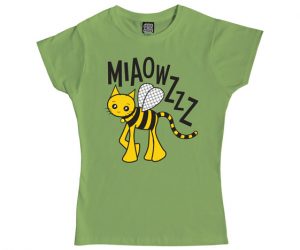 If you like more colourful t-shirts, Bumblebee Cat's also available in green. Available in the shop…
9) Ichigo Strawberry Cat Charm
Cute strawberry cat charm, with a phone charm style loop for your bag or purse. Perfect stocking filler – so small and cute! UPDATE: Now sold out!
Mexican tattoo-style t-shirt with cats, pawprints and fishbones to celebrate Dia de los Meows (aka Dia de los Muertos). Standard/mens t-shirts and ladies slim fit, in size small – 2XL. Available in the shop…
Don't Forget Your Christmas Cards!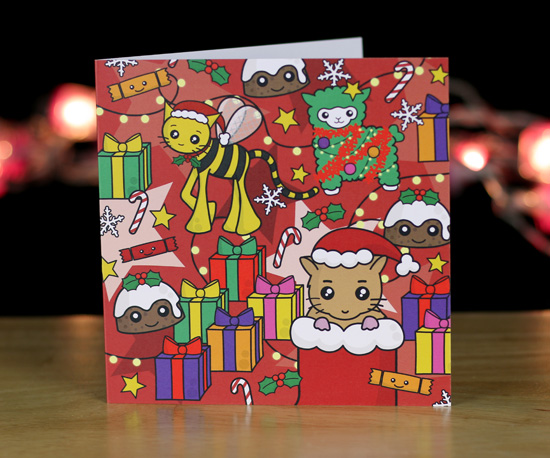 Mixed pack of 4 cute Christmas cards for £4. Available in the shop…
Lots More Gift Ideas!
Take a look in the shop for lots more cute and colourful, unique gifts for your friends and family: