I'm honoured to be included in #ialso 2021, a list of 100 female business owners. It's a campaign by f:entrepreneur, which champions female entrepreneurs and aims to inspire all small businesses.
What is #ialso?
#ialso is a campaign set up by Michelle Ovens, who champions small business and was recently awarded an MBE for her work. She also plays a large part in Small Business Saturday, which encourages people to support small businesses. Cakes with Faces was featured as part of the first UK Small Business 100 in 2013.
The idea for "I also" came from a discussion with female business owners, in which the words "I also" came up repeatedly when describing what they do. Running a small business involves so many different jobs and roles, and wearing many hats! It requires you to handle tasks that may not be your main specialty, and learning how to do a varied array of jobs, which larger companies have dedicated teams of specialists to handle.
I certainly feel this! When I say I'm a designer, people often assume I spend all day drawing, but that's actually the smallest part of what I do. Running Cakes with Faces involves so many things: finding manufacturers for products, negotiating with suppliers, product photography, editing the website, copywriting, packing up orders, answering customer enquiries, advertising, managing inventory, planning, accounts and so many things. I also run a YouTube channel about Japan, wrote, designed and self-published a Japan guidebook, wrote/drew two comic books and all the other projects I take part in, like running #Japanuary.
#ialso: 100 Female Entrepreneurs
The list of 100 female entrepreneurs is extremely varied, including a balloon artist, a 1940s clothing brand, a flavoured gin company, mental health workshops and sustainable bamboo toothbrushes. It shows that female-led businesses can be all types of shops, brands and companies, creating all types of unique products and services.
Spot me bringing the colourful (as always!) in the list: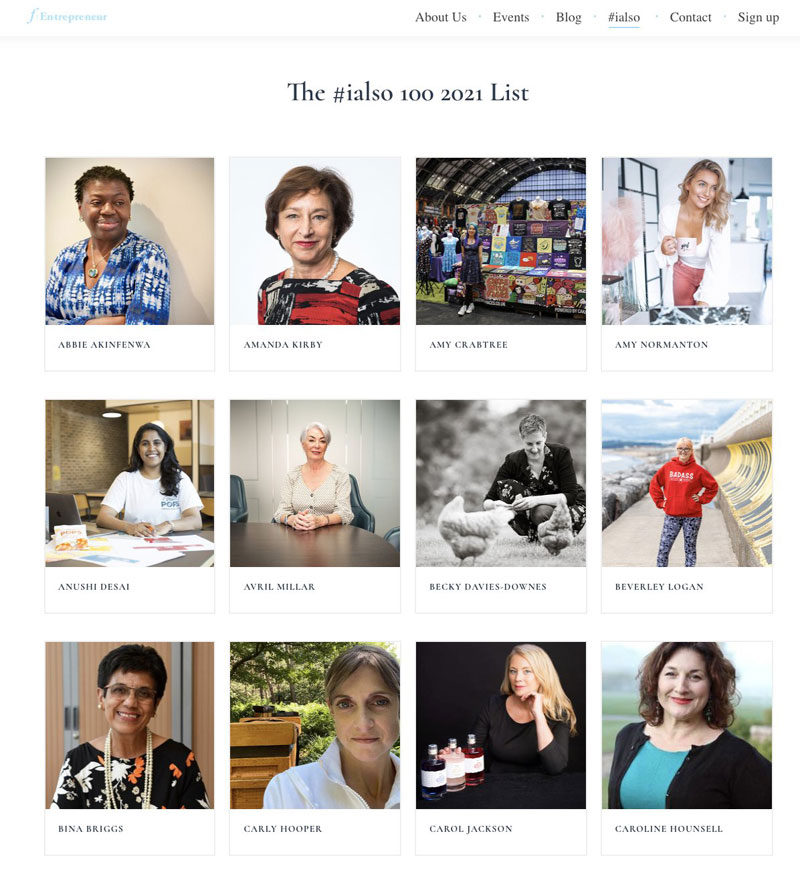 f:entrepreneur
In the UK, only 1 in 3 entrepreneurs are female. By showcasing role models, f:Entrepreneur aims to help and inspire small businesses – both male and female-owned.
Do Things your Way
As part of the 100, I hope I can show that you can do things your own way and build a life you love, running a business that you're passionate about.
To be honest, I don't really think of myself as an entrepreneur; the word conjures up thoughts of offices and suits, and all sorts of things that really aren't me. But I was a finalist for Business Entrepreneur of the Year in the Coventry Telegraph Business Awards. You can be creative, colourful and different, and a business owner.
I want to inspire other people to achieve their dreams. You can do things your own way; you don't have to be in an office or wear a suit if that's not you. I believe that if you put in the time and effort you can learn to do anything you want to, and if you work hard, you can achieve anything you want to.

10 Years of Cakes with Faces
This October it'll be the 10th birthday of Cakes with Faces. I started back in October 2011. I'm really glad it's still going, and so many things have happened that I'd never have expected back at the start. I'm looking forward to celebrating in the autumn – keep a look out for Cakes with Faces' 10th birthday party!