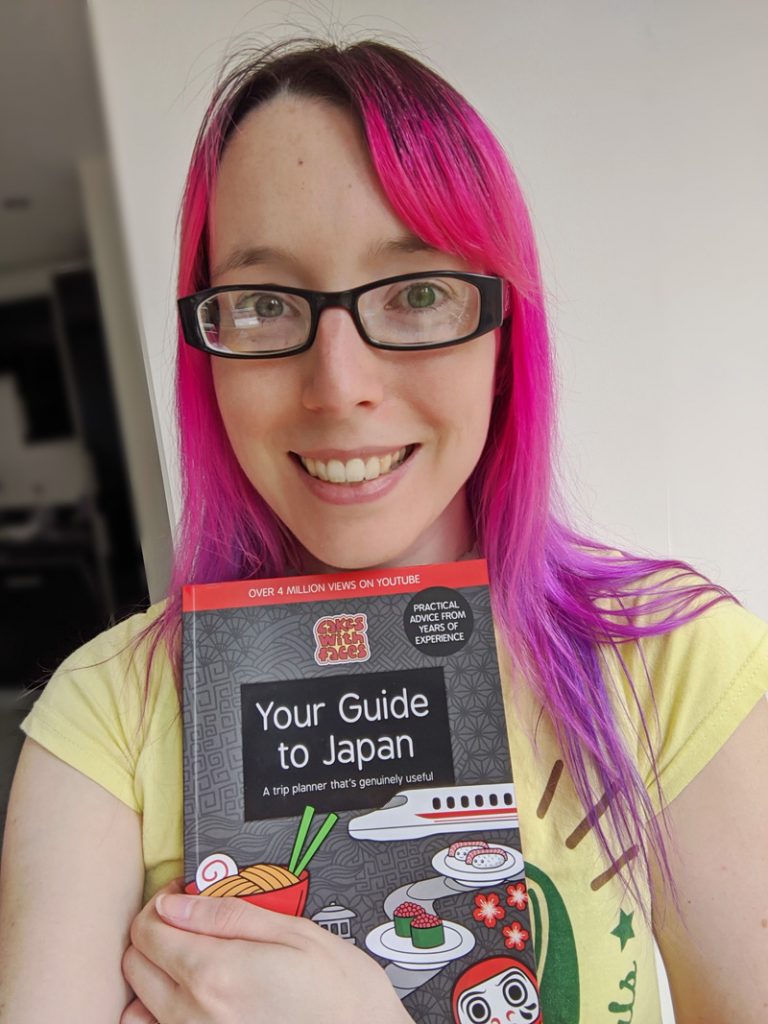 The Japan travel guidebooks are here! After working on them for so long, it's amazing to see them in print (and strange in a way to be able to flick through the pages in book format after only seeing them on screen in 2D!).
My first impression was that they're thicker than I expected (300 pages) and they look really colourful and packed with information. I'm also really happy with how the special finishes came out, with the red page edges and the shiny highlights on the cover. I know you shouldn't judge a book by its cover – but I couldn't resist.
Writing/Designing/Planning a Book
I first had the idea for the book in spring 2018. I had the idea when I was out walking and scribbled down my ideas in a spider diagram (below). Many of the ideas from these rough notes made it into the final draft.
To start off with, it was much more of a planning notebook with travel journal elements, but as I developed the idea I added a lot more content that's similar to a standard travel guide as well, for example places to go. However, it's a lot more practical than travel guides usually are, with lots of help on things like how to get around, how to book everything, and more offbeat things to do than you'd usually find in a guidebook.
The whole way through, my aim was to make it as useful as possible and create the guidebook I would have wanted for my first trip to Japan.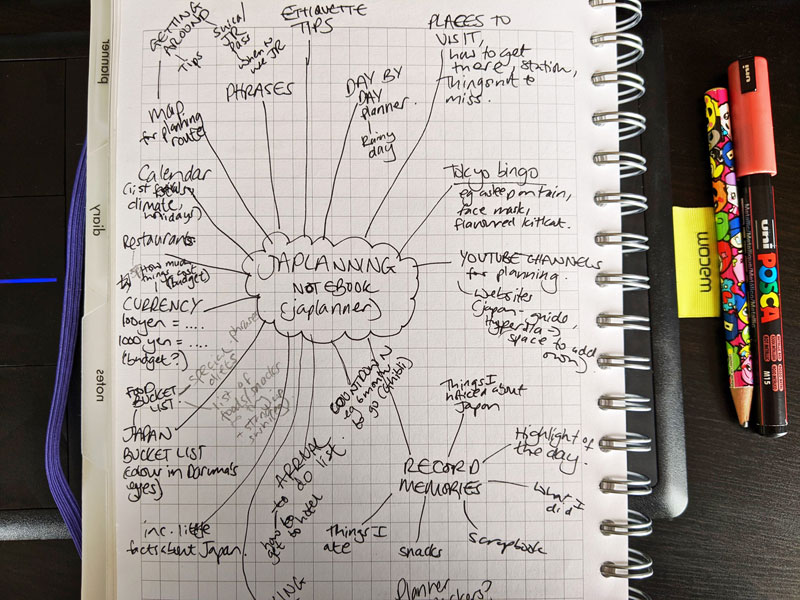 Crowdfunded on Kickstarter
The printing was crowdfunded via Kickstarter, which ran from the end of February to the start of April. It was really nerve-racking because I didn't know if the project would even get funded at all. I almost chickened out of launching! So it was really amazing when it was funded in 24 hours. I remember staring at that big scary zero right after clicking "publish", and now I'm so glad I went ahead with it.
As the situation with coronavirus worsened and spread across the globe, it seemed like it wasn't the best timing to be crowdfunding a travel guide. But even with the travel bans, planning a trip's a good way to look to the future when times are better. Even if you don't know exactly when you'll be able to go, you can still plan all the things you're going to do!
One of my concerns had been that spring's the most popular time to visit Japan in cherry blossom season, and my book would be too late in July. As it turned out, that wasn't a problem. I hope that it's a small silver lining for people who've had to postpone their trips, that they'll be able to use the book, spend a little more time planning and maybe even discover a few things they would have missed. My own Japan trip in May was also cancelled, and working on my book was definitely something positive to focus on throughout this whole time.
The Books Arrive
I was nervous when I received a notification that the books would be arriving – for two reasons. Firstly, I was hoping they'd come out well (I even had a nightmare about finding a mistake in them – because typos always sneak in, no matter how many times you proof-read!). But also because I had no idea how many boxes were about to appear on my doorstep. What does a thousand books look like? I can estimate numbers of boxes for t-shirts and hoodies, but for books I have no frame of reference.
So for anyone who's interested, this is what a thousand books looks like – they arrived on a palette!

Packing up 650 Parcels
After a quick dance around the kitchen and hauling all the boxes safely inside where it's dry, I set about packing them up straight away. I'd originally planned to get helpers, but with social distancing I ended up sending them out single-handedly. There were about 500 from Kickstarter and 150 pre-orders, and in total it cost around £4000 in postage. I sent them out in batches; my local Post Office were excellent and let me drop them off early in the morning, so they could process them before they opened.

It was exhausting – but it made it all worth it when comments started flooding in from people receiving their books. And that gave me the motivation to finish packing up the rest as quickly as I could!
It's been truly heartwarming reading all your messages and seeing your photos. I keep a collection of customer photos on Pinterest, and there've been so many on my Instagram stories.
I can't wait to see photos of you with your books in Japan, when it's safe to travel again.

Get a Copy of the Book
"Your Guide to Japan" is now available to order right here. I really hope you enjoy it, and use it to plan your adventures, to do and see all the things that interest you, and have the best time in Japan! Let me know how it goes!