For a long time I've been using purple plastic mailing bags to post your orders. While I like how colourful they are, I don't feel great about contributing to the problem of single-use plastics. So I decided to do something about it!
Single Use Plastics
I've always been a bit of an eco-warrior at heart. I recycle everything I can and am always conscious about environmental issues. I walk when I can to avoid driving, turn lights off when I leave them room and take reusable bags to the shops. When I have a stall, I've always used recyclable paper carrier bags (they're nicer as well!), and my t-shirts aren't individually bagged. Everyone should do what they can.
When it comes to plastics, unnecessary, single-use packaging is a large part of the problem. Having watched a horrifying documentary recently about plastic recycling (or lack of!), I decided it was time to take action and stop using plastic mailing bags in my online shop.

Recyclable Mailing Bags
First I looked into options for recyclable mailing bags and boxes. It turns out that some "recyclable" plastic mailing bags actually break down into microplastics, so they're just as bad as regular mailing bags.
As far as I could work out, mailing bags made of sugarcane or potato starch actually are biodegradable. However they're also really pricey, which makes it difficult for small businesses.
I try and keep prices affordable in my shop (currently the most expensive item is £32), and I try to keep postage rates at a reasonable level. On many orders, especially larger items and international orders, the amount I charge doesn't cover the cost of postage from Royal Mail. It's difficult when you're competing against larger online shops that offer free delivery (although really when delivery's "free", postage charges are often hidden in the cost of the items).
I looked into all sorts of paper mailers and recyclable bags. All of them were much more expensive than the plastic I had been using – even up to 6 times the price!
Potato Starch Bags
I ordered a sample of mailing bags made of potato starch. However, they turned out to be really see-through! I love the idea, but it's just not a practical option. If you can see the contents, packages might get stolen in transit – or what if the parcel's a gift for someone you live with? I really hope they develop the material and make it into a feasible option in future.

Cardboard Mailing Boxes
In the end I opted for cardboard mailing boxes. They're not as fun as the purple bags, but I feel better knowing they can be recycled easily by anyone.
When I asked you guys about it on Facebook, some of you said it's more exciting to receive a parcel in a box!
But even when you're trying to be eco-friendly, sometimes the recyclable packaging you order turns up wrapped in plastic…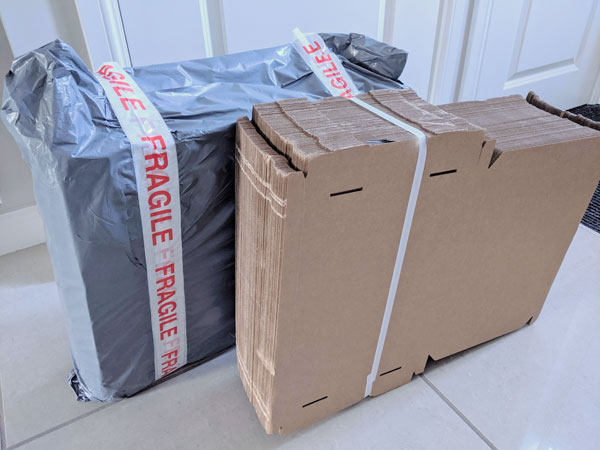 Keeping it Cute
I designed cute stickers to remind you to recycle them: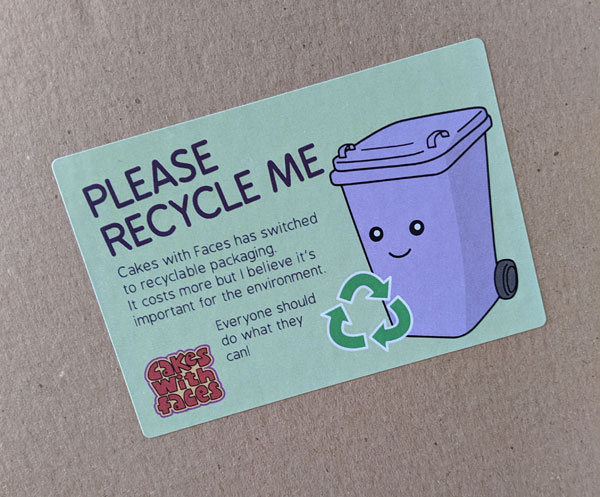 And I even got paper packing tape! It's actually a lot better because it's not as loud as regular packing tape, and it's much easier to find the end (which saves me at least an hour a week!).
The cost is still higher than plastic, but I think it's worth it, and I've kept postage rates the same for you guys. There's always more that could be done to help the environment, and my impact is nowhere near the scale of larger companies, but every small change counts, right?

PS: If you still receive a plastic mailer…
I buy packaging materials in bulk, so I still have a fair few plastic mailing bags left – just the large ones. So if you order a hoodie, a cushion or a larger order it may still arrive in a plastic mailing bag. It'd be more of a waste not to use them. But I won't be buying any more.
And the plastic mailing bags are recyclable where plastic carrier bags are recycled. (Thank you to one of my followers who let me know that if the plastic is "stretchy", it can be recycled with carrier bags).