Valentines Day Gift Ideas
Unique Valentines gift ideas for people who like sushi, Japan, gaming, cute and geeky things!
Original designs only available at Cakes with Faces.
Despatched quickly within 1 working day.
Add a note at checkout if you'd like a special message!
1) How to Make Sushi Gift Set

Have a night in on Valentines Day making sushi! It's a fun way to spend the evening together, and you can enjoy a sushi feast, just the way you like it. The comic book comes with two pairs of quality, reusable chopsticks and a sushi rolling mat: the perfect sushi gift. Suitable for vegetarians, vegans and people who like fish.
2) Cherry Cats Enamel Pin Badge

Cute enamel pin of two juicy red cherries with adorable cat faces, ears and whiskers! Rockabilly style for your lapel, bag, jacket or hat – or add to your pin collection. Now sold out – but take a look at the other enamel pins here.
3) Cute Earrings Gift Set

Gift set of all 3 pairs of cute Cakes with Faces earrings: cheeky ladybirds, tiny watermelons and kitsch Battenberg cakes. Quality enamel stud earrings, made of stainless steel. A tiny splash of cute for every day, in a velvet-lined gift box.
4) Illuminatea Sweatshirt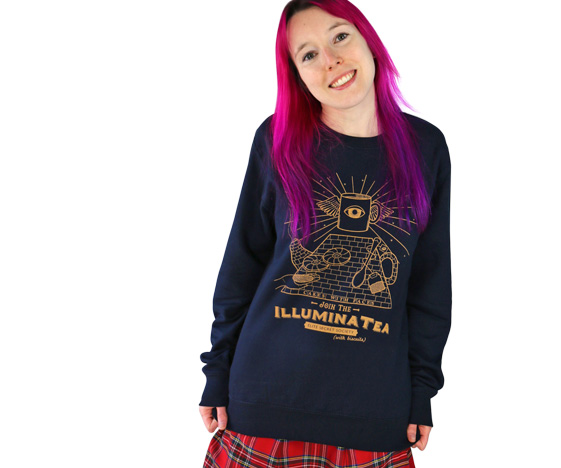 Cosy sweatshirt for fans of tea. Unisex sizes from small to 2XL. Original Illuminati design, featuring a pyramid, an all-seeing eye, a hand offering a digestive biscuit and jammy dodgers with secret symbols! "Join the Illuminatea: Elite Secret Society – with biscuits".
5) Hedgehog Sushi Enamel Pin Badge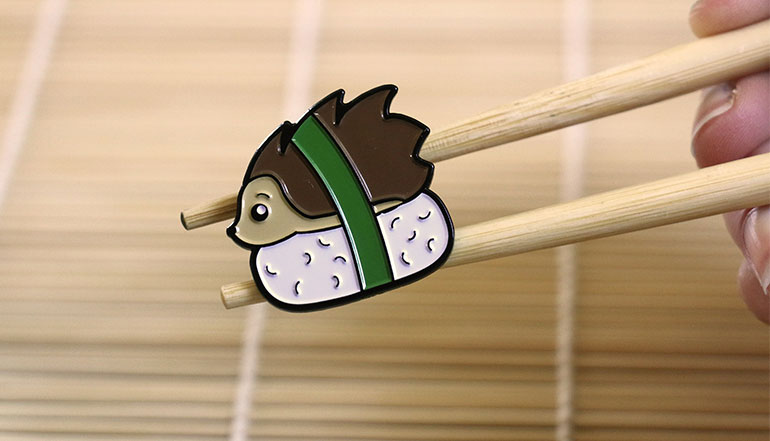 Part of the Zooshi series of animal sushi characters. Adorable hedgehog snugly wrapped on a nigiri rice ball. Cute sushi pin for your lapel, hat, jacket or bag. For fans of sushi and cute animals! Our most popular enamel pin.
6) Control Freak Varsity Jacket

Unisex varsity jacket for geeks and gamers. Stylish black and white jacket made of cosy sweatshirt-style material, to wear indoors and outdoors. Sizes XS to 2XL, for men and ladies – anyone who loves gaming!
7) Magical Kyoto Tunic

Flattering tunic for people who love Japan, with a pattern inspired by the beauty of Kyoto and the elegance of traditional Japan. Stylish asymetric hemline – looks great with shorts and leggings. Comfortable to wear, with stretchy fabric in UK sizes 6 – 20. Available in black and white versions.
8) Charged Up Snapback Cap

Stay fully charged with this snapback cap for geeks and gamers! Unisex one-size cap with adjustable strip at the back. Original design, only at Cakes with Faces.
NOW SOLD OUT
9) Ladybird Earrings

Cute spotty ladybird earrings in a fuzzy ladybird shaped gift box! Adorable small gift. Quality metal enamel stud earrings, made of stainless steel. Only at Cakes with Faces.
NOW SOLD OUT
10) Cat Cushion

Do they like cats more than people? Adorable pink cat cushion with cute details: heart nose, adorable whiskers and a little paw-print. Looks so cute with the other cushions (mix and match!), especially its best friend the bunny cushion. Brighten up your room – a perfect gift for cat lovers.
Now sold out – but take a look at the other cute cushions here.