I went to a super-fun doodling workshop with Jon Burgerman at the Southbank Centre. He's definitely somewhere on my list of artist idols so it was great to meet him and hear him talk about his work.
There were pens and paper for everyone and free drinks (what more do you need?!). Jon had put together a slideshow of hundreds of photos, doodling tips and videos, including photos of salad, his favourite artists, his work (including a mural on toilet cubicles in a probation centre!), rough sketches and lots of doodles. These included photos of chalk graffiti doodles on signs, the pavement, etc and video doodles of fun stuff from everyday life, like throwing a throw in Ikea and sketchbook characters eating real-life food.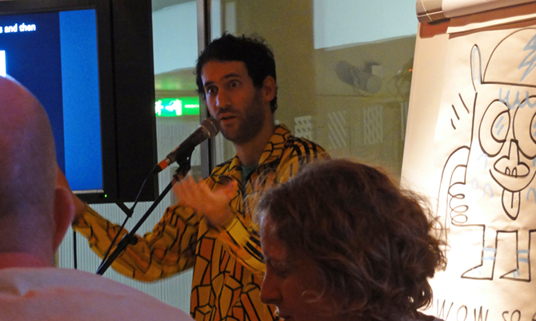 The Burgerman encouraged everyone to doodle throughout the workshop, and guided us through drawing a Burger-style character (but not before holding up our pens and promising not to make more money than him!). Mine (right) had clearly been staying up too late recently…
The evening was all about having fun with your drawing and was really inspiring. I scribbled down some of the drawing tips: Don't worry about being good, worry about being interesting. The only way to find your voice is to talk a lot (so to find your style you have to draw a lot). Complicated things are just simple things piled on top of each other. Draw now, think later. And Carb diem (seize the bread?!). He also talked about how doodling is not just drawing, it's drawing without fully concentrating on what you're drawing, or having a plan of what you're going to draw – which is difficult when you start thinking about it…
Some ideas we went home with, for things to doodle: Fill a page full of scribbles with your eyes closed. Draw what you can see without taking your pen off the page for 2-3 minutes. Draw an animal you wish you could talk to. Draw the feeling of having one wet sock…
A selection of my doodles from the evening:
Everyone got a supercool doodle mug, and I got my very own drawing in my copy of "My American Summer":
It was a great workshop, and the Southbank Centre have every kindly put their photos (which are correctly exposed and much better than mine!) on Flickr.