Thank you to everyone who came along to see us MCM Expo London Comic Con – it was an action-packed weekend and our best show ever!
Biggest UK Comic Con
Over 101,000 people attended the show – which makes it the largest MCM Expo so far, with 30,000 more people than MCM in October. Nerdy stuff seems to be getting more and more popular! There's such a great atmosphere at the show, with so many excited people and lots of stunning cosplays – the standard seems to get higher every year.
We were near the Pop Asia section, on a block with Sushi Noms (purveyors of Japanese Kitkats – they even had edamame flavour!), Get Ready Retro, Yaoi Kingdom and Nerdcraft. One of the nice things about exhibiting at cons is making new friends every time, and getting to know your neighbours on the stalls next to you. We always enjoy catching up with our friends on other stalls when we can sneak away from the stand for a few minutes! It was also fab being next to Moto Yogo, who have the cutest frozen yoghurt van. Inevitably, we maxed out on yummy froyo – chocolate flavour with berry sauce and strawberries is particularly recommended!
It was also exciting to see the Fonz in real life in the autographs area – there was a long queue of people waiting to meet him.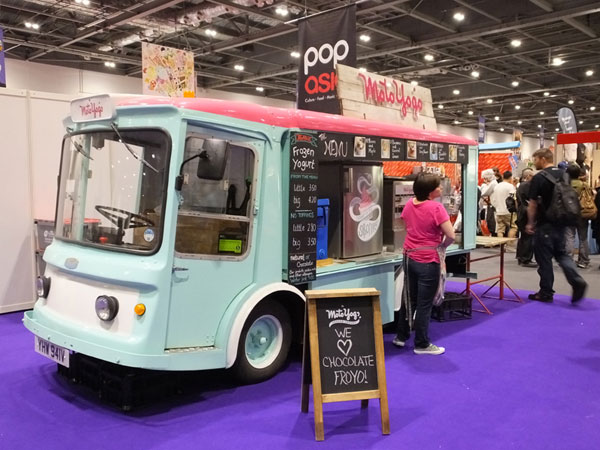 New Stuff!
Our new range of watches made their debut – the most popular designs were Juicy Watermelon and Neko Cat (now sold out).
A new t-shirt design for our Be More Colourful campaign (it's our mission!) in two bright colourways: pink and turquoise.
A new Bumblebee Cat t-shirt colourway, in dark heather, which goes with everything and has a really soft feel (the original lime version is still available).
New kids sizes of Cuter with Cat Ears – so cute!
New loyalty cards, so you can get your hands on limited edition, signed prints.
And finally, something we're really excited about: colourful Cakes with Faces cushions, in our signature Cute Explosion print, featuring as many characters as we could cram on. They were available as a very limited first run, and sold out during the show. There'll be more on the way, so keep an eye on the online shop – they will be back! Everything else will be available online very soon.
Bestsellers at the Show
The Cute but Deadly babygrows got a lot of attention, lots of them bought as presents for babies yet to be born. Prima Baby magazine snapped a pic of them on Twitter!
We've fallen head over heels for this cute @cakeswithfaces baby grow pic.twitter.com/rXSE836otd

— Prima Baby Magazine (@PrimaBaby_) May 24, 2014

The most popular t-shirt was Say No to Knife Crime – other favourites were Great Iced Shark, All the Best Stuff is from Japan and Never-ending Supply of Cakes (those two always make the bestseller list!). We also sold out of How to Make Sushi comics – it's great to know so many people will be learning to make their own sushi at home!
Photos
You can see lots more photos on Facebook – cool stuff from around the show, our displays, other stalls and a giant dinosaur from the new Transfomers movie! And if you came along to the stall, we'd love to see pics of your new Cakes with Faces stuff!