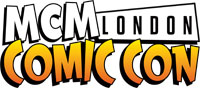 Come and see us at MCM Expo London Comic Con May 2015! It's the UK's largest comic con and geek fest, at London ExCel on 22-24 May 2015. For the first time, the show will be three whole days long: Friday, Saturday and Sunday.
If you've never been before, it certainly is a unique experience – and if you're thinking of going to a comic con, this is the one! If you like anime, manga, comics, games or nerdy stuff you'll definitely find something of interest. It's worth it just to see all the cosplayers – there are hundreds!
Cakes with Faces at Comic Con
We'll be on booth BC8 – click the floor plan below for a closer look. It's our biggest stall yet – come and see us and stock up on colourful t-shirts, cushions, watches and accessories! Say hello, meet the designer, and maybe even be in our video.
Stay tuned for news about exciting new stuff we'll have at the show! We'll be posting it on Facebook and Twitter…
MCM London Comic Con Floorplan
Find us on BC8 near the Steampunk section. Sometimes they change the layout slightly – the official floor plan will be in the show guide, usually published just before the show.
UPDATE: The official show guide is up! Here's the link: www.mcmcomiccon.com/ebooks/londonmay2015
MCM Expo Tickets
Tickets are available from the MCM Comic Con website for single days or the whole weekend.
Priority (early entry) tickets give you entry to the show earlier.
General entry tickets cost less and you can get in from 12 on Friday and from 11am on Saturday and Sunday.
We definitely recommend buying tickets in advance, because the queues for tickets can be really long, and last time they sold out.
Friday is usually quieter than the weekend, so if you have the day off, we'd recommend Friday if you don't like crowds! Saturday gets really busy, especially around the middle of the day.
Watch our Video from October!
We made a video about MCM Expo in October – watch for the story of our weekend, lots of cosplays and nerdy fun! Hit the button to subscribe to our YouTube channel – we'll be filming in May too!