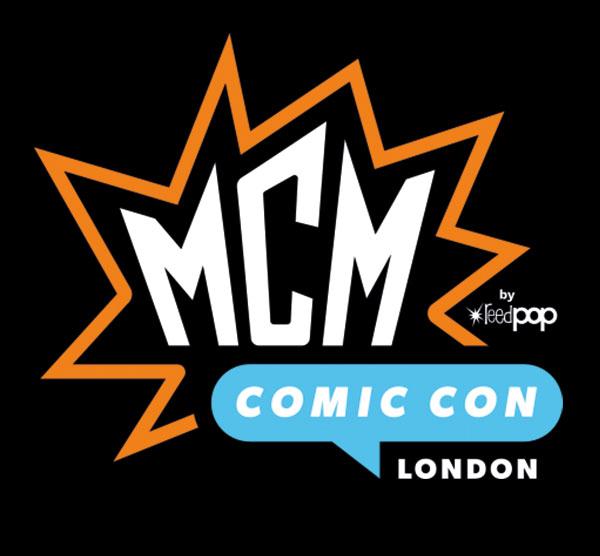 UPDATE 19/05/20: MCM London Comic Con 2020 is cancelled due to coronavirus. It's usually at the end of May, then postponed until July, and has now been cancelled completely.
MCM Comic Con in Manchester, Scotland and Birmingham have also been cancelled.
It's for the best – it wouldn't be safe to have so many people together at the moment and social distancing would be very difficult at such a crowded event. (I was considering covering my booth in plastic like a fish tank!).
Here's a statement from the organisers: https://www.mcmcomiccon.com/london-may-2020/news/an-update-on-mcm-comic-con-london-and-covid-19
Ticket Refunds
MCM are refunding all tickets and payments for autographs, photo sessions, etc. They'll be refunded automatically by the end of June – you don't need to do anything. They're also refunding exhibitors (big thank you to MCM).
MCM London Comic Con
MCM London is the UK's largest comic con. As well as comics, it's really an event about all kinds of nerdy or geek culture: anime, manga, video games, board games, cosplay, Japanese kawaii, indie comic book artists, cult TV and films.
It's on a whole different scale to other comic cons around the UK. It takes up two huge halls on both sides of ExCel. Over 130,000 people visit over the weekend. Whichever day you visit, you'll see plenty of cosplayers and all sorts of interesting things you can't find on the high street.
What's at MCM London?
There are hundreds of stalls selling all kinds of things:
Anime figures and merchandise
Japanese sweets
T-shirts
Cute plushies
Comics
Books
Games (video games and tabletop board games)
Merchandise from movies, games and TV shows
As well as the stalls, there are also:
Game demos to play
Special guests doing meet and greets
Stage panels and talks
Vehicles and costumes from films
Screenings of films and anime
Fan meet-ups
Lots of cosplayers
Special Guests
Usually the special guests are announced nearer the show – they can't always confirm until last minute due to filming schedules. Keep an eye on the MCM website and their Twitter feed for announcements.
You have to pay extra for autographs and photos with the guests, but the stage shows are included in your ticket.
Cakes with Faces at MCM Comic Con
Come to our booth to see my designs and say hello! You can get my t-shirts, hoodies, dresses, accessories, cushions and almost everything in the online shop (some of the older designs won't be there – there isn't room so they're online only!).
I'll be there the whole weekend. Come say hello, and talk about my designs, my videos or Japan! At time it can be really busy at the stall, especially on Saturday and in the middle of the day, so if it's crowded just come back later on and it might be quieter.
If you're coming along, make a note of where to find my stall. Every time there's always a few people who message me afterwards saying they couldn't find it. The show really is huge and it's so easy to miss things!
Venue
Comic con is at ExCel, a large exhibition centre in London. You can get there easily on the train. Take the DLR (Docklands Light Railway) to Custom House or Prince Regent. Both are right by the ExCel. As soon as you get on the DLR you'll see lots of cosplayers and other people going to the con, so just follow the crowds!
There's also a large car park (expensive because it's London!).
Floor Plan
This is based on the provisional floor plan so it might change slightly, but you can find me in the North Hall on booth BD4, near the Pop Asia section. The official floor plan will be out a day or two before the show. I'll post it here when it's out!
Save the map on your phone so you can find me:
Food at Comic Con
There are food kiosks all along the centre of ExCel. They're fairly expensive, as you'd expect at a convention centre. There are also a few Japanese food stalls in the Pop Asia section.
You're allowed to bring food and snacks with you if you want to. It's definitely a good idea to bring a drink to stay hydrated! There's a Tesco Express near ExCel, but it can get very busy.
Do Stalls take Cards?
More and more stalls take cards now, but not all of them. It's best to bring cash with you just in case. There are cash machines but the queues can get long – and you don't want to waste your day in the queue for the ATM!
Opening Times
Friday is the quietest day, and the best day to avoid the crowds (but you'll still see lots of cosplayers and all the stalls are open, the same as the weekend!). Saturday is usually the busiest, especially the middle of the day.
Friday 10th July 2020
Priority entry: 10am to 6pm
General entry: 12am to 6pm
Saturday 11th July 2020
Priority entry: 9am to 7pm
General entry: 11am to 7pm
Sunday 12th July 2020
Priority entry: 10am to 5pm
General entry: 12pm to 5pm
See what it's like
The last few shows have been really busy so I haven't had time to film a video, but here's my vlog from October 2018 so you can see what it's like:
How Expensive is Comic Con?
To show you how much things cost at comic con, to give you an idea of how much money you might want to bring, here's a look at prices around the show:
Tips for MCM London
If it's your first time going to MCM, you might find these tips helpful! It's from last year but lots of the info's still relevant: