Here's a round-up of ideas for unique presents for your mum to brighten up her day and make her smile! 
All orders are despatched quickly within 1 working day.
UK orders are sent by Royal Mail First Class (1-2 working days)
International orders are sent by Airmail (10-14 working days)
---
1) Sunset Cat Cushion – SOLD OUT
For mums who like cats! Cosy cushion with a silhouette of cats and birds on a gorgeous sunset background – I just love the colours!

---
2) Illuminatea T-Shirt
For serial tea-drinkers! If you're going to join a secret society, make sure they have biscuits. Funny t-shirt for mums who like puns (my mum wears one!). Also available as a sweatshirt.

---
3) Cherry Cats Enamel Pin – SOLD OUT
Cute cat enamel pin badge – two cherries with adorable cat faces and whiskers! To wear on your lapel, bag or hat, or start a pin collection – they're so small and shiny! Now sold out – but take a look at the other pins here.

---
4) How to Make Sushi Set
For sushi addicts! This little book contains all the instructions you need to make a sushi feast at home. The gift set comes with two pairs of reusable chopsticks and a bamboo rolling mat, so you're all ready to go! All the sushi can be made as fish, or as vegetarian or vegan sushi.

---
5) Hedgehog Scarf
Cosy knitted scarf with a subtle hedgehog pattern in black, grey and purple. One of the most popular items this year!

---
6) Bunny Rabbit Cushion – SOLD OUT
For rabbit owners! Purple cushion with a cute rabbit face – spot the heart nose and little paw prints. Comfy pillow to brighten up every day.

---
7) Hedgehog Sushi Enamel Pin
Adorable hedgehog perched on a Japanese nigiri sushi, safely tied on with a strip of nori. One of the Zooshi series of sushi animal pins – there's also a hamster, giraffe and alpaca!

---
8) Catsu Curry Hoodie
Catsu Curry – are you feline spicy? Cosy hoodie in sizes up to 2XL, with a cat snuggled into Japanese katsu curry.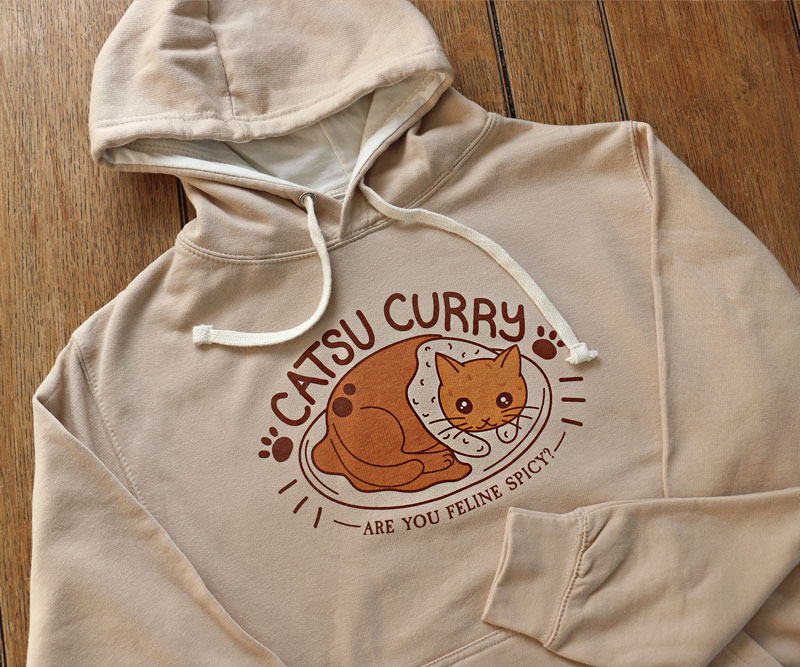 ---
9) Dia de los Meows T-Shirt
It's dia de los muertos – with cats! Fun cat t-shirt with a Mexican sugar skull style design, a cat gift for mums who are also mothers of cats. Available in womens fitted t-shirts and standard/mens t-shirts up to 2XL.

---
10) Magical Kyoto Tunic
Stylish tunic with a pattern inspired by traditional Japanese gardens, shrines and temples in Kyoto. Available in a wide range of sizes up to 3XL (it's ok to exchange if you order the wrong size!). Also available in white.