How to Fix Anime Figures
A growing number of our anime figures were in need of a hospital visit, from falling off shelves and being accidentally knocked over, oops! As a lot of you are anime and manga fans, I wanted to share with you how to fix your anime figures. I hope you find it helpful!
Which Type of Glue to Use
I'm happy to admit I'm no expert on different types of glue. Having heard horror stories about glue guns melting legs etc, I headed to the local nerd shop, where they sell Airfix kits, remote control helicopters, Warhammer figures and suchlike. The guys in there were really helpful, and gave a big speech about different types of plastic and glue.
The figures that I needed to mend were mostly anime figures from claw machines in Tokyo (I wasn't skillful enough to win them – they were from a shop round the corner!) and also a couple of smaller figures, a nendoroid and a plastic dinosaur whose tail had snapped off!  Poor Akemi Homura, from Puella Magi Madoka Magica had a snapped bow, an extremely small area to glue:
The helpful man in the shop said that some glues will melt the plastic and bond it together, and others will stick them together.  I have no idea what type of plastic they're made of, so he recommended a multi-purpose sticking type glue called Zap-a-Gap!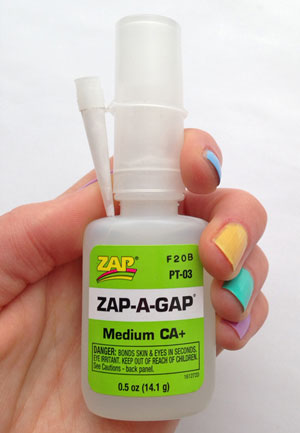 It cost about £4 and did a fantastic job of fixing all the figures, anime and non-anime. You apply the glue with the thin nozzle, hold the two pieces together for a few seconds, then leave to dry. The join is very strong – the dinosaur can even be picked up by the end of his tail (and he's a diplodocus…!).
Even Mio from K-On's broken ankle is fixed – a join that has a lot of pressure as she's joined to her base by only one foot – a rather impractical design (but she looks cool!). (This one looks a little bit messy from previous attempts at fixing her).
I hope you find this helpful for fixing anime figures – please share with the buttons below if your friends' figures are also in need of a hospital visit!