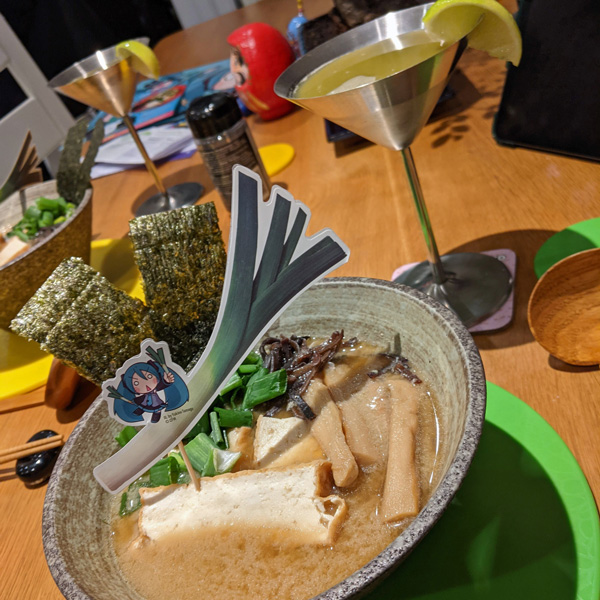 Miku x Shoryu
As a very early birthday present from my friends I got the Miku x Shoryu DIY Ramen at Home kit! It was delicious, and fun to have a kawaii theme restaurant experience at home – and it comes with limited edition Hatsune Miku goodies.
The set is a collab between Vocaloid and Shoryu Ramen, which has restaurants in London, Oxford and Manchester. It's the sister restaurant of the Japan Centre in London. I'm not local to any of their locations, but the kit's sent through the post so you can enjoy it wherever you are.
What you get
The kit's for two people and includes a two course meal of ramen and a blue Miku cookie for dessert, plus a Matcha Detox mocktail.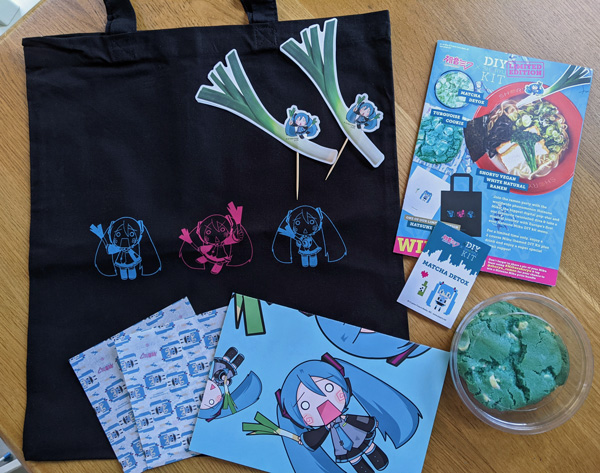 For the complete theme restaurant experience, you get a kawaii chibi Miku on a leek to decorate the ramen, placemats (which I'm definitely keeping as posters) and little sheets to serve the cookies on – which you could use as origami paper. It also comes with a limited edition Miku tote bag. There's a choice of two bag designs at random.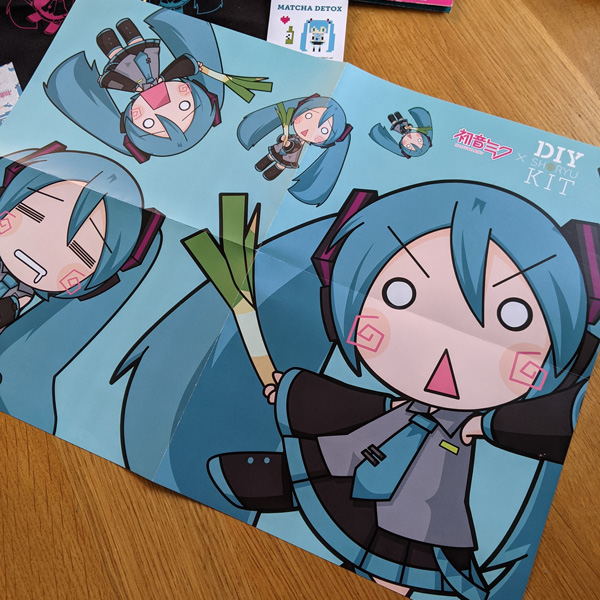 Easy to Cook
Full instructions are provided (the first step is put on some Vocaloid tunes!), and it's very easy to cook in just a few minutes. Everything you need is included – really it just needs warming up and assembling. I followed the timings really carefully to make sure I didn't mess it up!
Everything's really fresh. The noodles seemed freshly made and floury – they weren't dried or greasy like "straight to wok" noodles from the supermarket. It says you can freeze everything if you don't want to eat it straight away, or if you wanted to split it into two portions (the kit's designed for two people).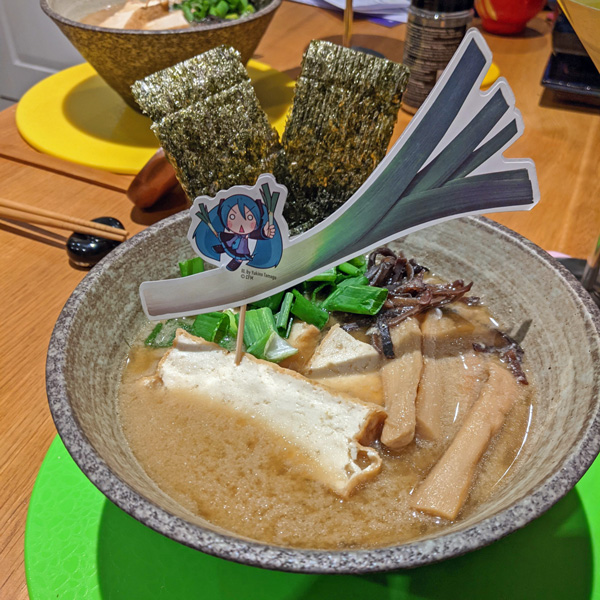 It came out better than takeaway ramen I've ordered from restaurants. Noodles in particular don't seem to fare well when they're warmed up and then delivered to your house; even if the broth's in a separate container the texture isn't as good as when you eat in a restaurant. While you do have to warm it up and assemble the dish yourself, the result's better because it's freshly cooked.
There was plenty for two people – we were both full up and there was broth left over. I saved half the mocktail for the next day too!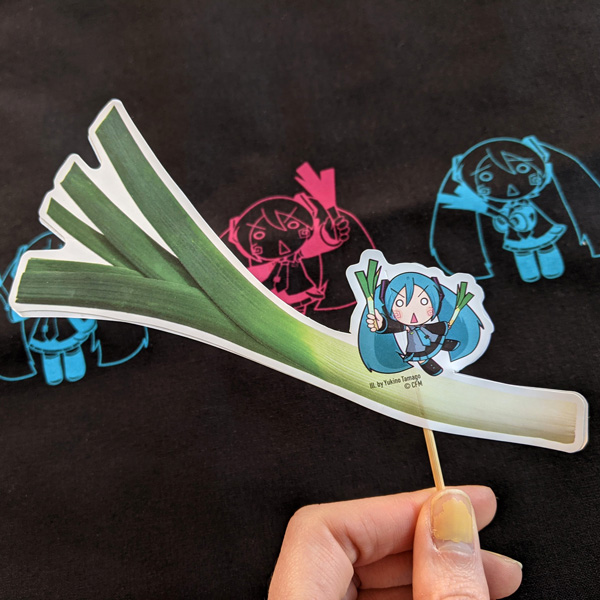 Ramen
The set's available with tonkotsu pork ramen or vegan ramen (Shoryu's White Natural Vegan Ramen). I don't think the cookie's vegan, which is a bit of an oversight, but it's perfect for vegetarians like me.
I had the vegan ramen, which tasted miso-y and full of umami flavour. It comes with tofu, spring onions, sliced kikurage mushrooms, menma (bamboo shoots) and nori seaweed sheets. So the toppings were more authentically Japanese than ramen I've been cooking myself (when any veg in the fridge gets added in!).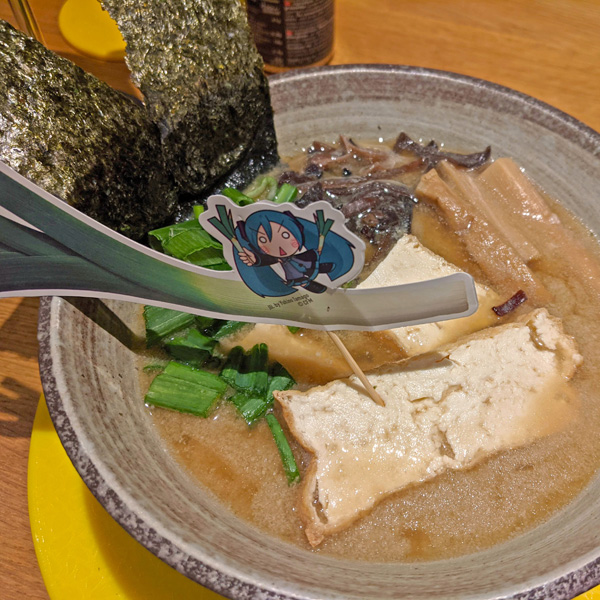 Blue Miku Cookie
It really is blue! White chocolate flavour – sweet and buttery, with a pixelated Miku cookie sheet to serve it on: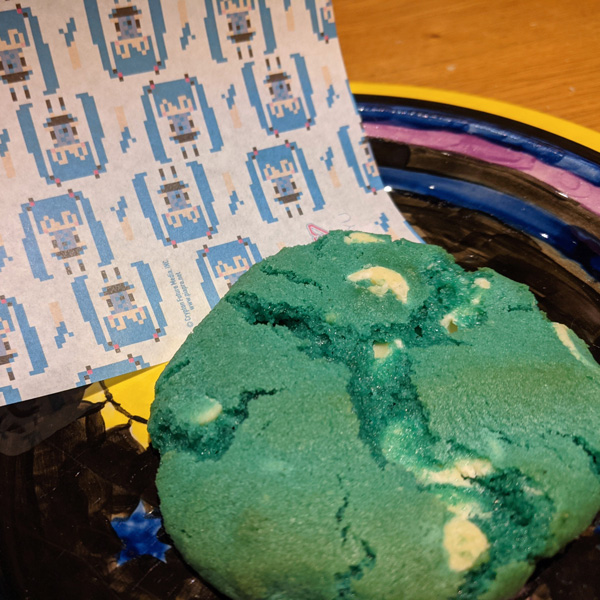 Matcha Detox Mocktail
A fruit juice mocktail – very zingy and juicy! And don't worry – the matcha taste isn't bitter or overpowering.