#Japanuary is a Japan-themed Twitter / Instagram challenge. Join in and share what you love about Japan!
Each day of January 2020 I'll be sharing a pic on a theme related to Japan. And you can join in!
Looking for Japanuary 2021? It's over here…
How to Join In
Post a pic on Twitter or Instagram related to Japan
There's a theme for each day – you can see them all below. It can be a photo or artwork – whatever you like!
Use the hashtag #Japanuary so everyone else can see it too.
Join in every day or as many days as you want to.
I'll be posting each day, and you're welcome to join in. I can't wait to see your pics – I'll be sharing a few favs!
Themes for Each Day in January 2020
Feel free to share this pic so other people can join in too!
Click here for the 2021 themes…


What if I haven't been to Japan?
Japanuary is for everyone! If you haven't been to Japan, or if you're planning your trip and haven't been yet, you can still join in.
Post something Japan-related eg Japanese food you've tried (or cooked yourself!), cute character merch, plushies, figures, books, drawings, arts and crafts, Japanese events in your country or your collections at home.
For the themes that involve places, share a link to somewhere you'd like to go, or are planning to visit!
More about the Themes
Here's a bit about the prompts for each day, to give you some ideas. Feel free to interpret them however you like – I can't wait to see what you post!
You – and why you love Japan
What draws you to Japan, and what first sparked your interest? Include a Japan-themed photo or drawing of yourself if you want to.
Architecture
Modern or historic, unusual buildings, contrasts, interesting details
Ramen
Make us hungry!
Temples and shrines
Tori gates, fox statues, paper fortunes, beautiful temple buildings, lanterns, festivals
Sweets and snacks
Traditional wagashi, Japanese candy, mochi, street food snacks, convenience store treats, ice cream, taiyaki
Tokyo
One of the busiest cities in the world! So many different neighbourhoods, each with its own character.
Countryside
Views from the train, rice fields, mountains, lakes, hiking, day trips, waterfalls, valleys, gorges – that you've been to or would like to visit.
Harajuku
Tokyo's centre for alternative fashion and kawaii
Traditional Japan
Kimono, gardens, arts and crafts, buildings, historic streets, Japanese castles
Your first trip to Japan
Time for some memories! Or share where you'd like to go on your first trip.
Games
Including games arcades, or Japanese games you play at home.
Water
Rivers, lakes, the sea, waterfalls…
Cute characters
Character mascots, kawaii character merch, cute characters on signs.
Mountains
Fuji-san, hiking pics, views from the plane, mountains on the horizon in the distance
Only in Japan
Something you'd only see or find in Japan
Arcades
Video games, purikura, UFO catcher prizes, arcade machines
Trains
Stations, the metro, train signs, tickets, the bullet train, historic or unusual trains
Japanese streets
Large busy streets with neon signs, or picturesque alleyways and backstreets
Kawaii
Share the cuteness!
Favourite place
Tell us where it is and why it's special
Night views
City lights, neon signs, illuminations, glowing temple lanterns, festivals, magical twilight
Day trips
Trips you've been on or would like to go on
Vending machines
They're everywhere!
Nature / animals
Wildlife, spots of green in the city, countryside from the train, animal cafes, pets in the park, cute animals.
Drinks
Green tea, bars, vending machine favourites, cocktails
Gachapon
Capsule toy machines, amazing finds, or show your collection
Sushi
Traditional or conveyor belt, made at home, restaurants, bento boxes
Akihabara
Tokyo's otaku central: home of anime, manga, games arcades and electronics shops
Four seasons
Cherry blossoms, rainy days, winter snow, autumn colours, summer heatwaves
Convenience store favs
Snacks, drinks, sandwiches, onigiri, bentos, bakery treats, fried chicken
Beautiful views
Finish Japanuary with a gorgeous view – day or night, natural or in the city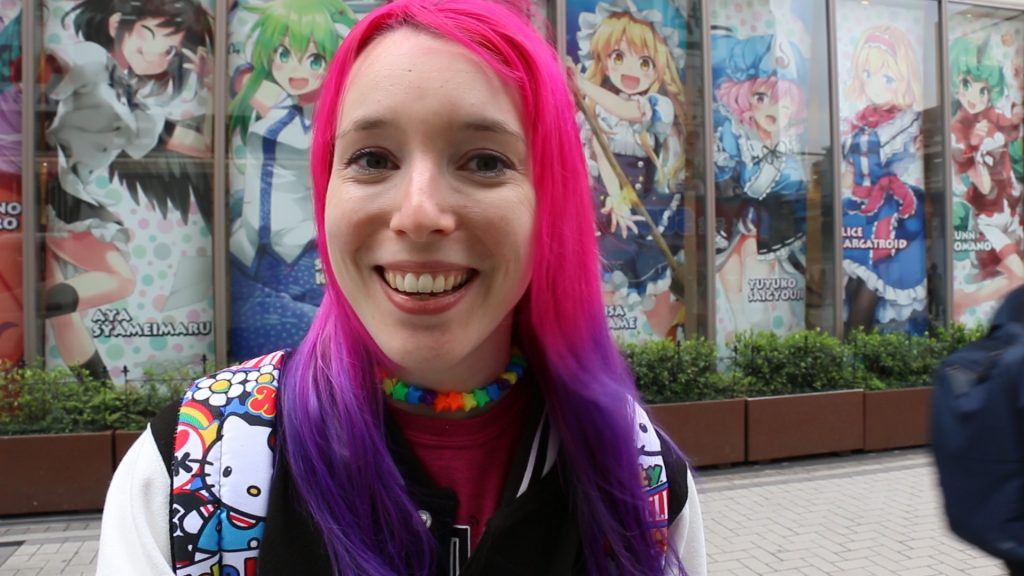 Videos about Japan
If you're new to Cakes with Faces, take a look at my videos! I hope you enjoy my Japan travel vlogs and tips to help you plan your trip.
New videos every Thursday on youtube.com/cakeswithfaces
My Designs
I'm also a designer! Lots of my designs are inspired by Japan and kawaii style. Take a look…