New Amabie sparkle stickers and holographic badges are available now right here in the online shop! There's worldwide shipping to any country.
UPDATE: Amabie stickers and badges are now sold out.
What's an Amabie?
The Amabie is a Japanese yokai (monster) said to ward off an epidemic. It has long hair, a beak, three legs and looks a bit like a mermaid. Legend has it that it appeared in the sea, and said if you show a picture of it to everyone you know, it'll help stop an epidemic.
Artists have been drawing their own interpretations of the Amabie and posting them online. I couldn't resist drawing my own kawaii version of an Amabie – it's my contribution to help against the pandemic!
Amabie Sparkle Sticker
Vinyl stickers of the Amabie with a magical sparkly star effect. They look amazing in the light! They're vinyl stickers so they're long-lasting and weatherproof, and the colours are UV protected. Stick the Amabie on your laptop, folder, notebook or wherever you like. The stickers are about 8cm x 6.5cm.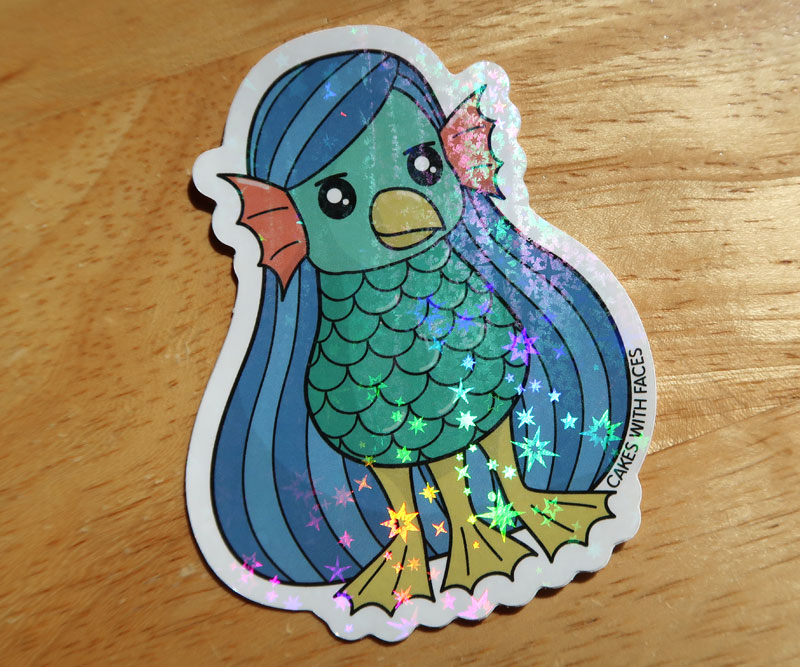 The best way to show how sparkly they are is a video! Here's one from Instagram showing how they look in the sunlight:
---
Amabie Holographic Badges
The badges are 38mm pinback badges (a size up from tiny button badges) with a rainbow, holographic finish. Pin it on your lapel, bag or jacket to take a cute little Amabie with you everywhere.

See how shiny they are in this video from Instagram: