New Battoos
You've heard of Cattoos – well now there's Battoos! Temporary tattoos with bat designs – perfect for Halloween!
Each set is an A5 sheet of all the battoo designs – sugar skulls, flying bats, cute sleepy bats, a spooky castle, a midnight moon and lots of tiny bats and stars for a finishing touch.

Designing the Battoos
You might not believe it now but I used to be into dark things, and Halloween was my favourite. There was a time when I'd wear black every day, and I loved bat motifs. In fact, the second choice name for Cakes with Faces was Things with Batwings, because the shapes are fun to draw in Adobe Illustrator. My older drawings are a bit darker and had lots of vampire characters, like a vampire sunflower. These days I'm much more colourful, but it was fun to tap into my old interests when I was designing the battoos.
Here are some of my rough drawings – to start with they included more general dark/gothic themed designs like cats and ghosts (and cat ghosts!) but in the end I decided to keep it on theme and go for just bats. Spot the Illuminatea with batwings:

Easy Halloween Costume
Battoos are perfect accessories for your Halloween costume. I made sure the designs weren't too Halloween-themed so you can wear them all year around, but they're certainly perfect for Halloween!
Wear Cattoos on your face and arms, with a glow in the dark Cuter with Cat Ears t-shirt, cat ears and black trousers or a tutu and stripy socks for an easy, casual Halloween outfit.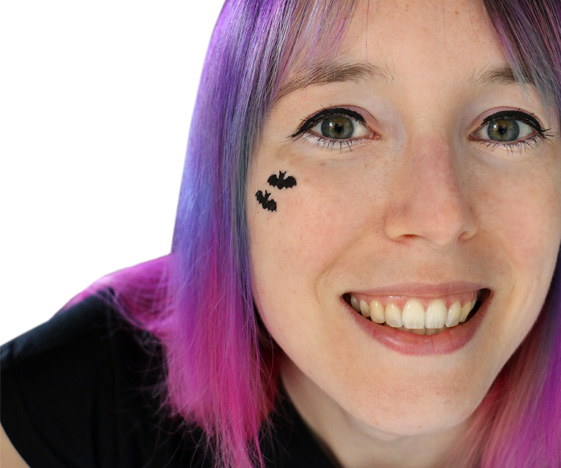 How to Apply Battoos
Battoos are really easy to apply – all you need is a little water. Instructions are included in the pack.
Watch my Cattoos video below to see how to apply them (it's so easy you don't really need a tutorial, but it's a fun video!).
How to Make Your Tattoos Last Longer
Depending on where you apply them, the temporary tattoos can last for up to 2 weeks! I've found they only last a day or two on your face, but elsewhere they last a lot longer.
Apply somewhere your skin doesn't flex too much, like your upper arm
Treat them gently – pat dry and don't scrub them
Cattoos and battoos are removable at any time with warm soapy water
After a day or so, they fade slightly and look more realistic and less shiny. People have even thought my cattoos were real tattoos!
Remember to tag me in your photos on Facebook, Twitter or Instagram!