Exciting news: I'm a published artist/author! Two Cakes with Faces books are being published by Ice House Books: my Sushi Comic Book and Cupcake Comic Book.
I'm so excited to finally tell you about them – I've been working on the books secretly throughout the last year and it's been so hard not to talk about them!
They're both available now:

Published Books
They're 64 page, hardcover books filled with my full colour artwork. All the recipes are in fun comic book style with panels, speech bubbles and cute characters showing you what to do.
So far I have a preview sample of each and I'm so happy with them. The covers are even embossed, with glossy details!
They'll be available from book shops and gift shops – although if you'd like one, it's best for me if you buy it right here from my website! There's worldwide shipping to any country.
If you have a shop and you'd like to stock my books, details are at the end of this post!
Get your Book Signed
If you'd like me to sign your book, just add a note at check-out saying who you'd like it signed to.
Signed books are only available on cakeswithfaces.co.uk.
Sushi Comic Book
The sushi book is an extended version of my self-published How to Make Sushi comic book. The whole book's in comic book format, with cute characters showing you what to do. Sequential art's perfect for visual instructions like how to roll sushi. As someone said in their review of the original version, it's "so much more helpful than just a bunch of words"!

Recipes in the Book
The recipe book includes recipes for how to roll your own sushi at home, including:
Different types of sushi rolls
Nigiri
Temaki hand rolls
Plus how to cook side dishes like miso soup, edamame and gyoza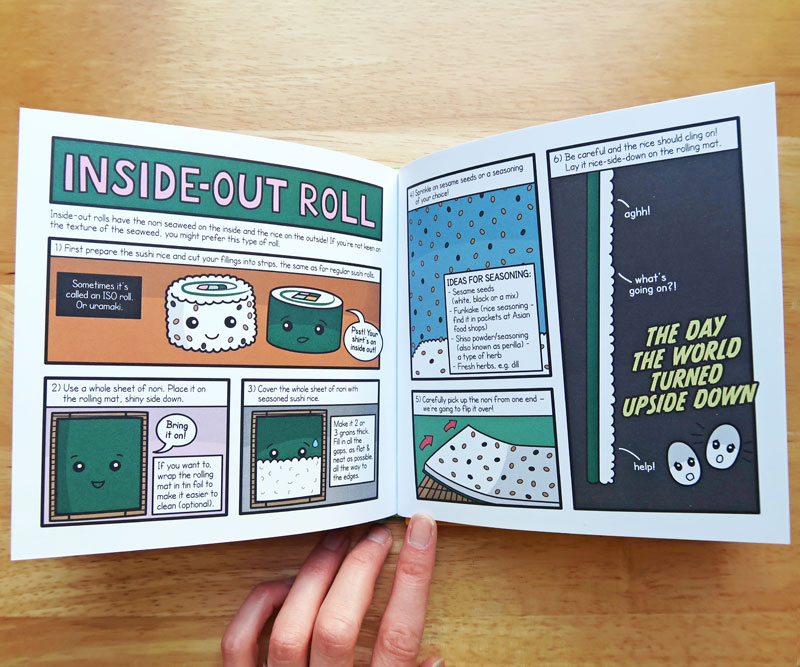 If you already have my self-published sushi comic, this is an extended version. It includes all the content from the original comic together with extra recipes such as tamago, miso soup and inside out rolls.
There's also fun facts about sushi in Japan, together with where to get Japanese ingredients, how to find sushi-grade fish and tips for hosting your own Sushi Saturday with your friends and family.

Vegetarian/Vegan Sushi
All the sushi can be vegetarian or fish (I don't eat fish myself!), and all of it's vegan apart from the tamago which is made of egg.
Why it's great to make your own sushi:
Have a fun sushi night together with friends and family.
Have as much as you want!
Make your sushi just the way you like it.
Save a tonne of money compared to going to a restaurant.
---
Cupcake Comic Book
The Cupcake Comic Book is completely new – a recipe comic book for how to make and decorate cute cupcakes!

Like the sushi book, it's completely in comic book format, so you can see exactly how to make the decorations.

Recipes in the Book
There's an amazing selection of delicious (and kawaii) cupcakes to make:
Japanese-themed cakes like white chocolate and wasabi, and cherry blossom cupcakes.
Extra colourful funfetti and pinata cakes.
Super-cute panda and ladybird cakes.
And some are just delicious – anyone for blueberry maple pancake cakes or gingerbread microwave mug-cakes?

There's also help with where to get baking supplies, how to pipe buttercream in different styles, natural alternatives for decorations and cupcake troubleshooting.
It's a fun and unique recipe book where everything has a life of its own – I never expected I'd be drawing sunbathing desiccated coconut or a cupcake doctor (for the baking troubleshooting page – obviously…!).

Pre-Order Details
The books will be published in March 2020. You can pre-order them now, right here in my online shop, and they'll be sent out to you as soon as they're available.
I'm so excited about these books. Having them published really is a dream come true and I'm so happy with how they've turned out. In particular the cupcakes book looks so colourful and very Cakes with Faces. A big thank you to my agent Sarah for making this happen. It's been great working with the publisher and they've given me a lot of freedom to make the books just how they should be, even down to choosing the designs of cupcakes that are included (that's why they're all super-cute!). I hope you enjoy them too!
---
If you have a shop:
If you have a gift shop, a book shop or an online shop, you can stock my books! My other products aren't available for wholesale, but the two new books are available from Ice House Books (an imprint of Half Moon Bay) if you apply for a trade account here on their website.