It's my new dress design: "The Party of your Afterlife"! A pattern of hieroglyphics in black and gold, with a border print of ancient Egyptian style creatures enjoying an evening soiree.
Now available on general release:
---
Inspiration
I first came up with the idea for a cute ancient Egyptian design when I was making one of my gachapon videos! I found a series of kawaii Egyptian gacha, featuring a Japanese character called Medjed. It looks like someone in a Halloween ghost costume with a sheet over their head – but it turns out to genuinely be part of ancient Egyptian mythology, found in the Book of the Dead. Apparently he became popular in Japan when a picture was displayed in a museum in Tokyo. There were all kinds of bizarre memes, as well as merchandise and even a game called Flying Mr Medjed.
Anyway, the link between ancient Egyptian drawings and kawaii sparked my imagination – the large eyes and outlines match so well with kawaii style.
When I was 7 or 8, I was obsessed with ancient Egypt – it was my favourite in primary school and the subject of my school projects whenever we got free choice (about the same time I was a massive fan of Joseph and his Amazing Technicolour Dreamcoat).
I spent the school holiday drawing an epic Where's Wally style picture of ancient Egypt – it was my masterpiece: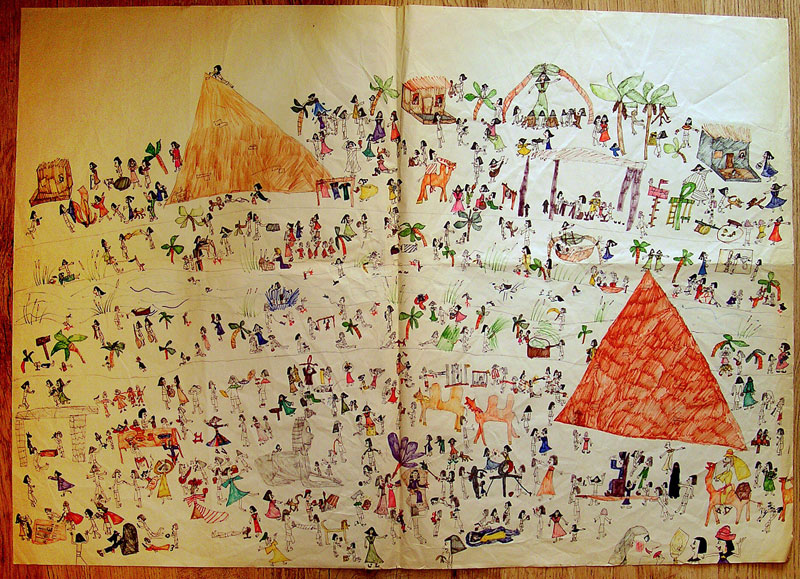 Design Process
I started out by sketching some ideas for characters and playing around with the style (including the genius concept: "if dinosaurs existed in ancient Egypt" – maybe some ideas are best left in the sketchbook…!):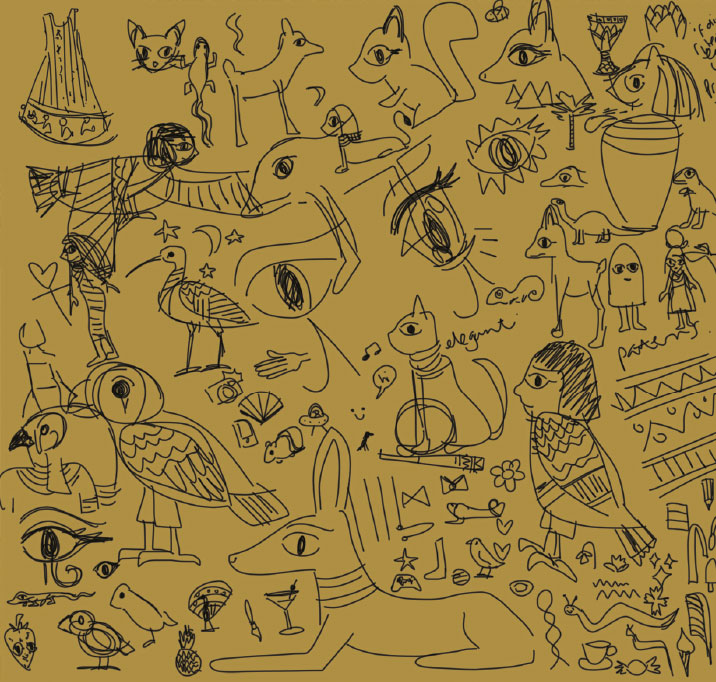 Then I started drawing some of them up properly in vectors, in Adobe Illustrator. This jackal was one of the first – he looked really sophisticated and refined, and I thought it'd be funny to add a martini. His sphinx-like position's perfect for it!

So that's where the Party of Your Afterlife concept came from. I went on to draw more animals and creatures with a party theme, with masks, snacks and party poppers. Some of them are traditional ancient Egyptian creatures like the jackal, ibis and rabbit, and some are my favs (including a hamster of course!). I turned them into a kind of wall frieze, a bit like the ancient Egyptian wall art:

I also designed the pattern of hieroglyphics. Some of them are real hieroglyphs and – to make it more fun – some of them are made up! These were really fun to design, and I played around with the pattern to get the right mix of real and imaginary.
A theme in my dress designs is how there are hidden details if you look closer – so they look like normal(ish!) dresses but there's more to them, like the cake constellations on Starry Night.

I'd been wanting to design a border print dress – like how lolita dresses have illustrations around the bottom hem, but less cutesy. With the curved shape of the skirt, using the wall frieze would have been nigh on impossible to get right, and would have required the placement to be exactly perfect on each dress, for each different size.
I still wanted a border print though, and I tried a couple of styles before getting it right. I ordered three different samples until I was happy with it – at first the characters didn't stand out enough so I worked on the design to make them show up more, adding an outline, shading on the background and getting the colour the right shade of gold. (Wouldn't it be great if it was shiny metallic gold? Maybe one day…!).

Available Now
The new dress is now available in the shop:
UK sizes 6 to 20 (measurements are in the size guide)
Shipping to any country in the world
Check the price in your currency with the button in the shop
The style is the same as the Starry Night and Cattoos dresses, and if you already have one of the other dresses or tunics, the sizing is the same:
Cap sleeves
Stretchy fabric – comfy for casual wear and going out
Fit and flare style
Just above knee length – slightly longer than a lot of skater dresses
It's a really flattering style. I wear my dresses all the time – whenever I need to look a bit smart for meetings, as well as for going out, seeing bands, meeting friends and family meals and gatherings.