Enamel Pin Badges
A brand new product for Cakes with Faces – cute enamel pin badges!
After admiring all the cute pins on Instagram for so long, this is the first time I've designed some myself and I'm really happy with how they've come out. They're so small and shiny, and look perfect on your jacket, bag or hat! There are three designs, available in the shop now – I hope you like them! You can get them individually or as a set of three.
Designing Cute Pins
Watch my video below for a vlog of my design process. I filmed along the way as I designed the pins, so you can see what it's like designing new products for Cakes with Faces.
There were so many little decisions to make, to get the pins just right. It's also a risk when I create new products, because it involves investing in a large quantity of products, before I know if anyone will like them. Cakes with Faces wouldn't exist without your orders, and I have the best and loveliest customers in the world, so as always thank you for your support!
I'm working on several other new products at the moment too, and am planning to make more videos like this to share my creative process, so if you'd like to see them, hit subscribe on YouTube! I also make videos about Japan and there are lots more of them coming up too.
Cherry Cats
Cherry Cats is based on a design from the Cattoos (temporary tattoos with cat designs!). The cats are so small and cute, and the colour's really vibrant. I think this one has a rockabilly look to it! Available in the shop…
Hedgehog Sushi
So cute! A tiny hedgehog on a ball of rice, wrapped in nori – a perfect little hedgehog nigiri. I'm actually working on a series of sushi friends – they're still scribbles in my sketchbook at the moment so look out for more of them on Instagram or Facebook! A pin for sushi fans. Available in the shop…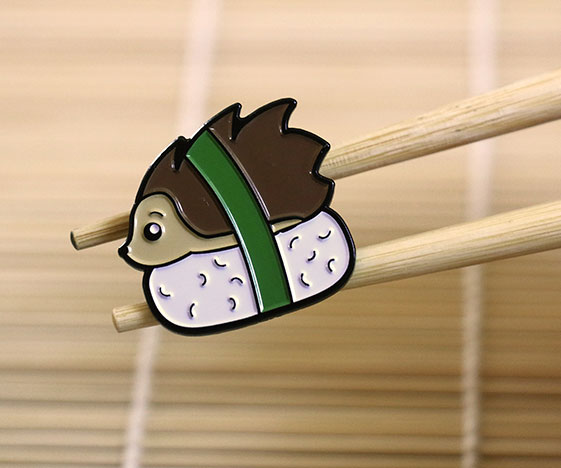 Pegasaurus
Pegasaurus is the prehistoric ancestor of the pegasus. He was just a drawing for fun, from when I was working on the UniCorn t-shirt design. Pegasaurus is so happy to have wings and fly – his face is pure joy. I love the bright colours on this pin, and I hope he spreads a little happiness wherever he flies! Available in the shop…