My new scarf design is now available on general release! It's a knitted winter scarf with a space themed design of stars, planets, comets and galaxies.
Galaxy Space Scarf
The idea for a space design was actually one I came up with last year before I brought out the hedgehog scarves. Here's the rough design with a space theme:

I revisited the design and incorporated it with checks, zigzags and stripes to make it into more of a traditional knitted pattern.
The photo above is from the manufacturers, of the sample to make sure it looks ok before they went into production. There might be a slight variation in the colour in the actual scarves (as always when you take photos due to lighting).
I think it looks great in the picture, and I'm looking forward to them arriving! It's always exciting to see new products in real life after working on them on screen for so long!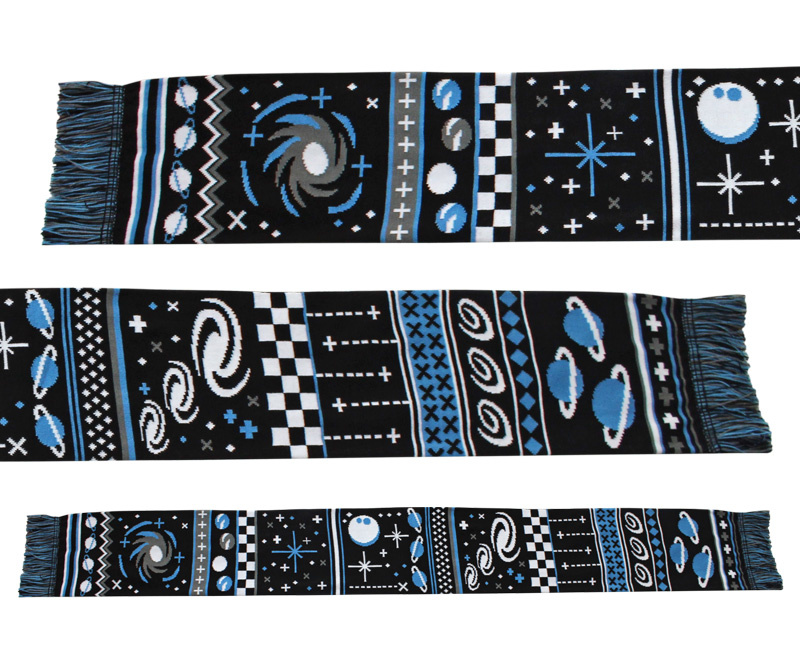 Knitted Scarf
The scarf is a knitted, winter scarf to keep you warm. It's made of 100% acrylic yarn, which feels soft and just like wool. It's also perfect for anyone with a wool allergy.
It's made the same way as the hedgehog scarf, which kept me warm all last winter – even in the -12°C temperatures of Hokkaido in North Japan! (Watch my Hokkaido vlogs on YouTube!).
It's unisex adult size (approx. 18cm x 156cm), and the design is knitted, not printed.

Perfect Christmas Gift
Scarves make a great Christmas gift – they're only at Cakes with Faces, so they won't have already seen them anywhere else!
All orders are sent out quickly within 1 working day. Here are the last recommended order dates for Christmas (I've made them as late as possible to give you the most time for last minute presents!).

Hedgehog Scarf
The new scarf is a sister design to the hedgehog scarf I designed last year. It was really popular, and makes a great gift for anyone who likes hedgehogs and wildlife: