Shark Dresses
The shark dresses are finally available in the online shop! They're available in UK sizes 6 to 18-20, for immediate despatch, with worldwide shipping.
I know some of you have been waiting for the shark dresses since I first had the idea earlier this year. I made a quick mock-up in Photoshop and posted it on Facebook, and so many of you liked it and were so excited that I had to get them made!
Designing Shark Attack
The design's based on the Shark Attack cushion, with ferocious sharks getting up to all kinds of mischief in an underwater scene, with a blue gradient background. I like creating designs that look normal (or semi-normal) at first, but have fun details if you look closely. And there's lots going on in this design – sharks battling each other, octopus playing tricks and a cheeky crab, along with some scared little fishies!
I made some changes to the design, to make it into a larger repeat pattern for the dresses, and extended the blue gradient background across the whole dress. The top at the shoulders and neckline is a lighter, mid blue, blending into a deeper blue at the bottom hem, for the depths of the ocean.
They were going to be launched at Hyper Japan, but I wasn't happy with the colours of the first sample. The blue at the top came out lighter than I expected. You can spot it in my photos and video from Hyper Japan, where the sample was on display on the mannequin. I didn't want the top to be see-through – even though it was actually ok when I tried it on – but just in case I adjusted the colours and the final dresses look much better.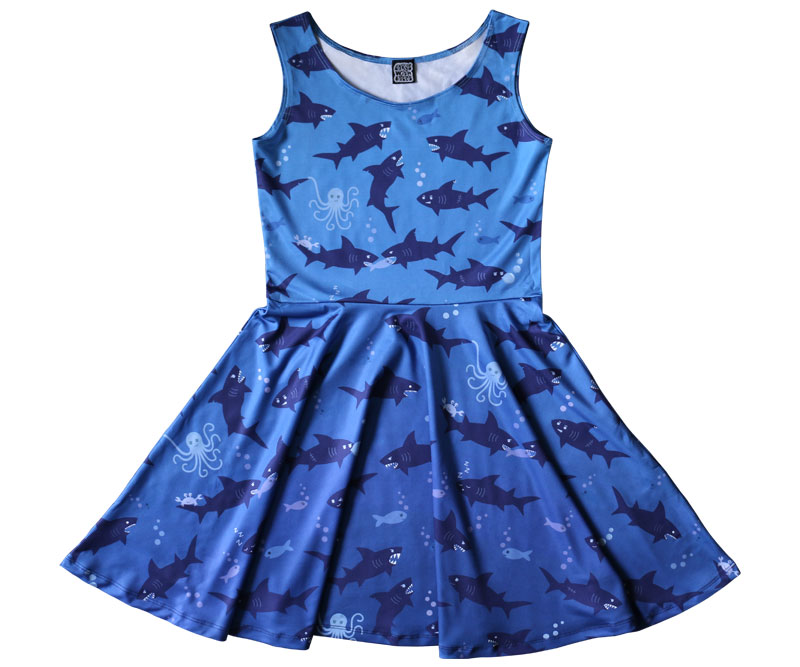 Available Now
The shark dresses are available now in the online shop. Like with the other dresses, it's available in a range of sizes from UK 6 to 18-20. The sizing is on the small side, and is the same as the other dresses if you already have one of those. As with all orders, they're despatched within 1 working day, so you don't have to wait too long for yours to arrive!
They're a better quality than some of the comic book style skater dresses I've seen. When I first made the dresses I tried out several samples, and found that these had the best style, and are finished properly – some skater dresses aren't sewn along the bottom hem. They're also a little longer – on me they're just above the knee. Several taller people at shows recently have said they often find skater dresses too short and revealing, but they found these ok. If you have any questions about measurements just get in touch!
I hope you like them – it's so exciting to have dresses made with my designs. Often clothes on the high street are so drab and boring, so it's great to provide something a little different, if you want to wear clothes that are a little more fun and interesting!