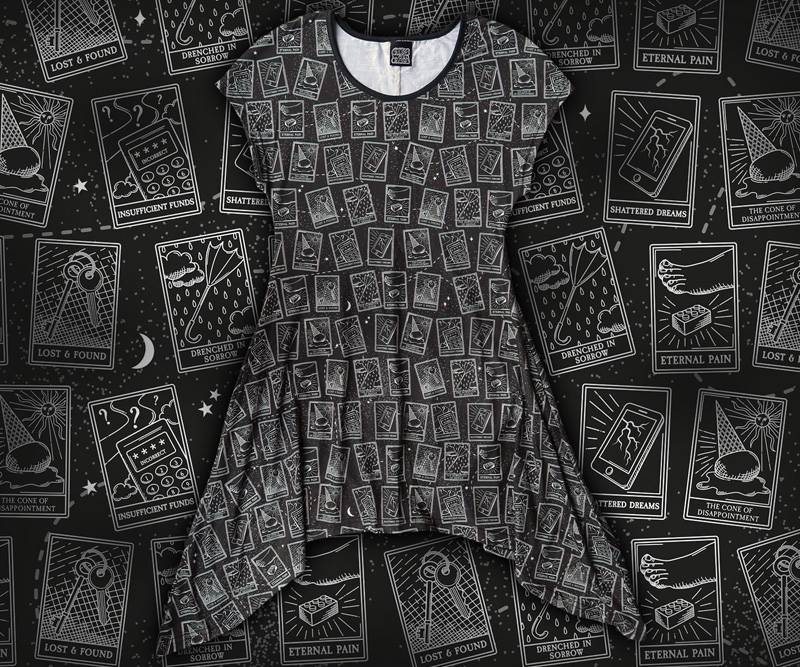 New tarot cards tunic – look closer, these aren't normail tarot cards!
Womens sizes 6 – 20.
Flattering asymmetric hem.
Wear with leggings or shorts.
Only available at Cakes with Faces/
Tarot Cards Tunic
The new tunic features a pattern of light-hearted, bad-news tarot cards, like "Eternal Pain"!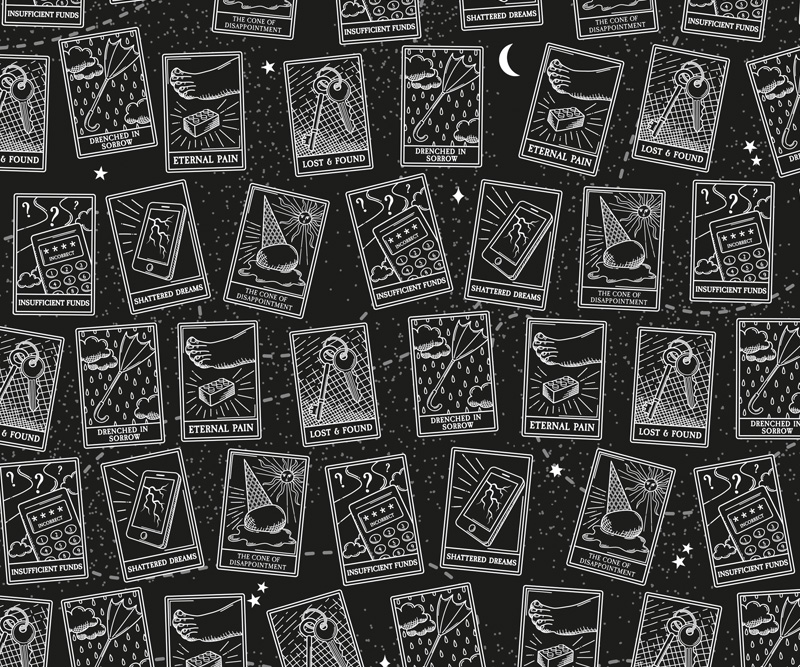 They were really fun to design. I love the art style of tarot cards and thought it would be fun to draw silly versions, bringing them up to date with modern-day problems like "Shattered Dreams".

The tunic has cap sleeves and a flattering style with side trails. It's a bit short to wear as a dress (unless you're very brave and don't bend over!). The monochrome colour scheme is easy to wear, and it goes really well with leggings or shorts. If you want to see how it looks, I'm wearing the sample in my comic con preview video.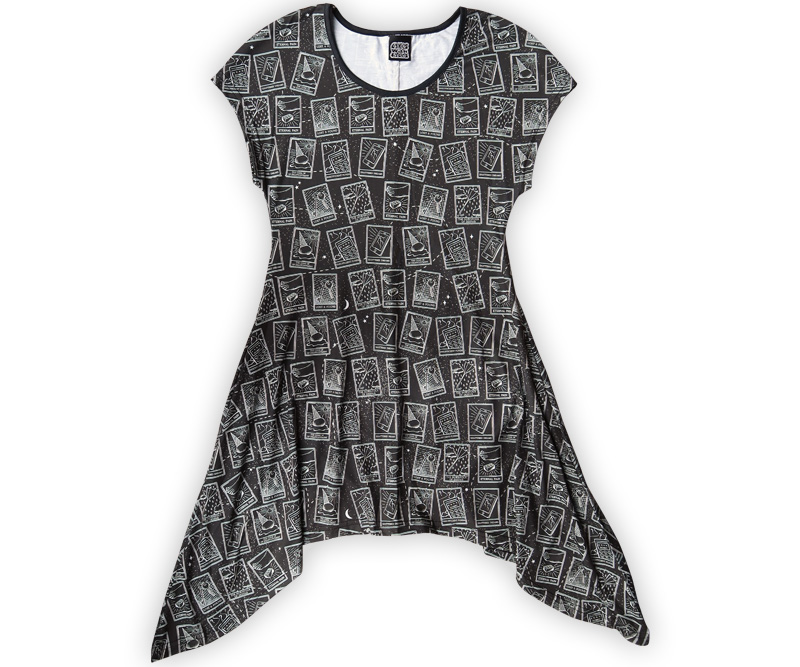 Sizing
The sizing is the same as the other dresses. If you have any questions about sizing, or if you'd like any other measurements just send a message.
UK Size 6 (to fit 31-32″ chest)
UK Size 8-10 (to fit 33-34″ chest)
UK Size 12 (to fit 35-36″ chest)
UK Size 14 (to fit 37-39″ chest)
UK Size 16 (to fit 40-41″ chest)
UK Size 18 (to fit 42-45″ chest)
UK Size 20 (to fit 46-49″ chest)
What Type of Fabric?
The tunics are made of a different fabric to the other dresses and tunics. It's stretchy, 90% cotton and feels similar to jersey / t-shirt material. It's soft and comfortable to wear, and you can't feel the printing on the fabric.
Design Process
I started working on the designs for the cards at the start of the year. I came up with lots of ideas for cards, intended for a new t-shirt design. The theme was: low-key bad news.
Once I had the cards ready, bringing them together into a design with an overall concept was more tricky. It was a project I came back to every few months to look at with fresh eyes.
The t-shirt is available to pre-order now too, and I also made a pattern out of the cards to see how it would look. I tried out mock-ups on a dress, and finally decided on the tunic. It's a completely new style with flattering side trails for a quirky, alternative look.
The photo is of a sample I've had made to check the quality and how the print would come out. It's important to get the scale of the pattern right, the placement of the design and make sure it looks good in print. I made some small tweaks to the design, and the finished tunics will be ready mid November.
Available Now
The new tunics are available right here online, with shipping to any country in the world.