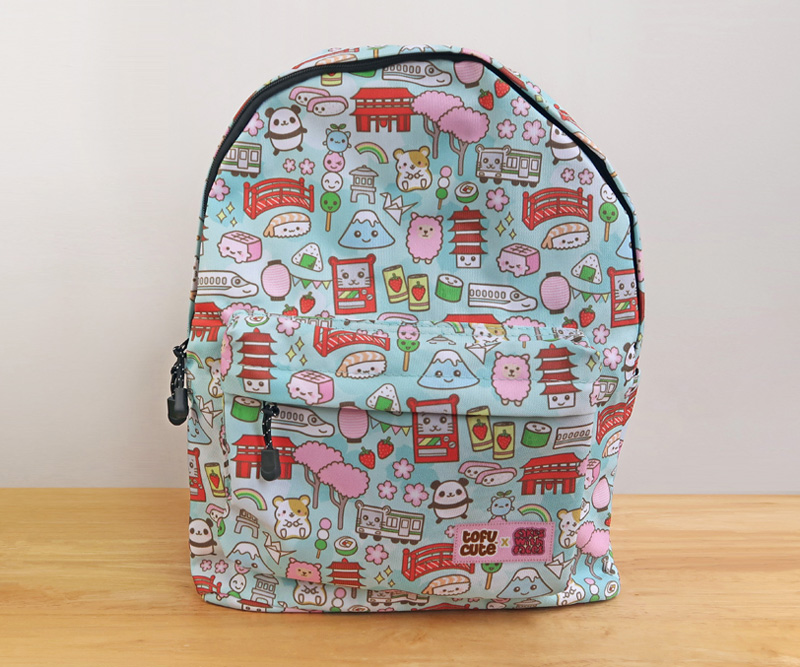 New Hanami Party backpack – a special edition collaboration with featuring characters from Cakes with Faces and Tofu Cute in an extra kawaii, pastel-coloured design. It's available now in the shop (worldwide shipping):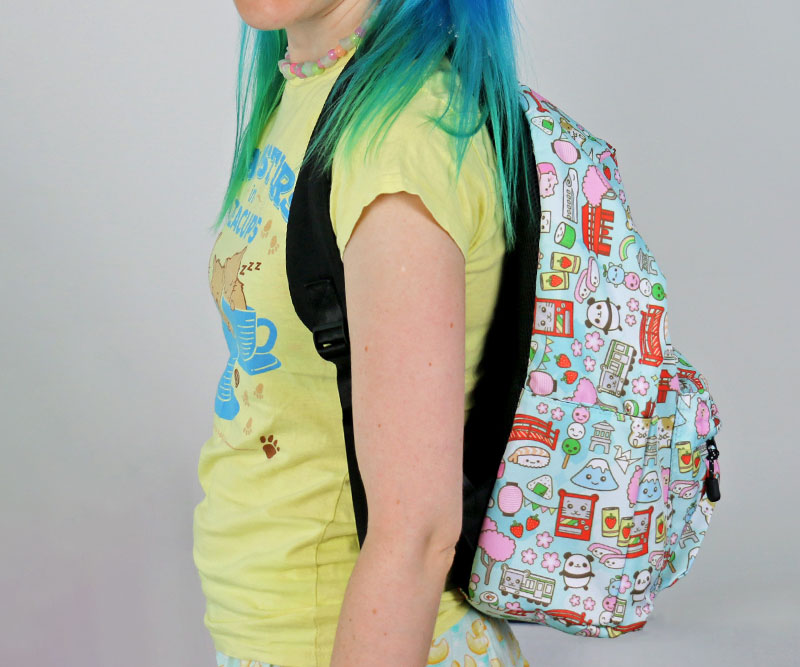 Kawaii Hanami Party Design
The Tofu Cute and Cakes with Faces characters are now best of friends! Spot Tofu-kun, Panda-chan, Hammy, Seedling, Nigiri and Alpaca having fun with the Hamanote Line, Shinkansen, Vending Machine and other friends from Tokyo City of Kawaii. It's a hanami party under the cherry blossoms – and you're invited!
Tofu Cute's the cutest of the cute, so this is more pastel and kawaii than some of my designs. It was fun to design a pattern using different characters and bring in all the cuteness!

Lots of Pockets!
The backpack's a unisex adult size bag with lots of pockets for all your stuff! Inside there's a compartment for a laptop or books, with a velcro tab to keep them secure. A 17″ macbook fits snugly, so if you that size or a smaller laptop it'll fit just fine. It's large enough for A4 books and folders so you can use it as a bag for school, college or work.

There's also a clip for your keys, a zipped compartment for valuables (I always use those pockets for lipsyl!) and holders for pens, as well as pockets on the sides and a zipped compartment on the front. And the zips are covered by a flap to keep them secure.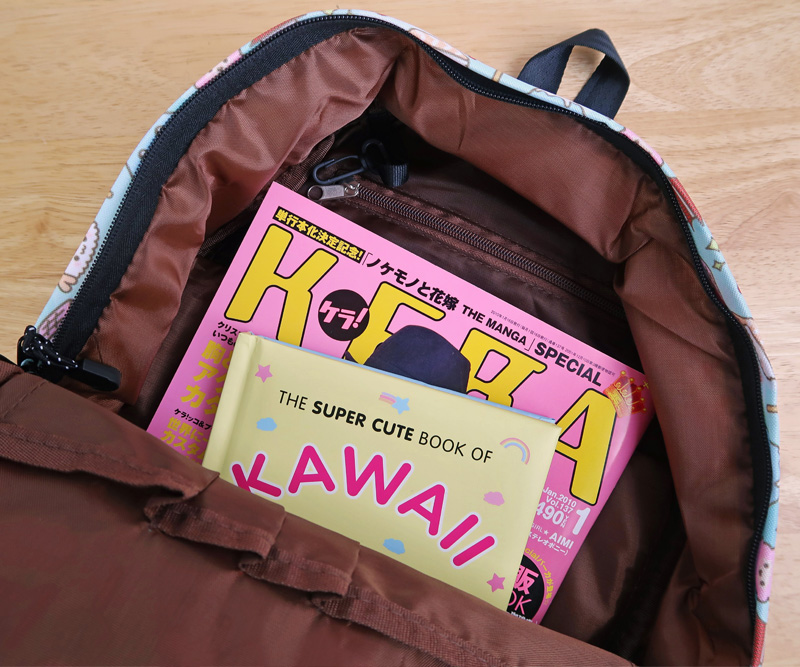 The back and straps are slightly padded so it's comfy to wear on your kawaii adventures!

Tofu Cute
Tofu Cute bring a taste of kawaii to the UK with Japanese sweets, plushies and cute stationery. They've been our friends at comic con for a long time – they've been our neighbours a few times at shows and they've grown so much over the years. (And they have hamster plushies!!). If you've been to MCM Comic Con or Hyper Japan, you're sure to have seen their stand; it's always the pinkest and cutest one of all!
Thank you to Tofu Cute for the collaboration – it's been so lovely working with them and I hope you like the new design as much as we do!

Tofu Cute DigiFest 2021
We all miss the fun of comic cons, so this month Tofu Cute are bringing some of the excitement online for the kawaii community with Tofu Cute DigiFest.
I'm so happy to partner with them bringing you the special collaboration backpack as part of DigiFest, and there are some more surprises coming up over the next month too!
Keep an eye on Instagram for updates as they're announced – there'll be competitions, livestreams and lots of kawaii fun!