Tokyo City of Kawaii is a new series of enamel pins with a Japan theme – and they're very cute!
Available individually or as a complete set.
Original designs only available at Cakes with Faces.
Despatched within 1 working day.
Cute Japan Pins Set
There are four pins in the series:
Hamanote Line – A hamster version of a Yamanote Line train.
Batchapon – A bat gachapon machine.
Shinkanpin – The shinkansen bullet train.
Vendpin Machine – Japanese vending machine.
The pins are inspired by items from my favourite place, Japan, embodied with the spirit of kawaii and turned into cute characters. This is my favourite pin set so far – they're just so cute and colourful!
I'm fascinated by all the characters and mascots you see around Japan. While Japan isn't all about cuteness (it's a normal, everyday place too!), it's certainly the home of kawaii. I'm so interested in how it's a part of the culture, how all kinds of objects can be personified and used on everyday signs to make things seem more friendly. I'd love to investigate this further. As an experiment, once I went around Ueno in Tokyo spotting all the cute characters I could see around on signs, etc – you can see how many there were in this video:
Design Process
I've had the idea for this series for a while. You might recognise the origins of the characters from the thank you card I sent out with the rewards from my Kickstarter project for my Japan travel guide. I took it as a chance to experiment with ideas for the characters, which I then developed further (and made cuter!) for the pins:

Hamanote Line
The first of the pins started life as a drawing just for fun: a cute, hamster version of a Yamanote Line train. I thought it was too silly and so niche that no one else would get it. Turns out I was wrong!
The Yamanote Line is a train line that runs in a loop around Tokyo. It's really useful and if you go to Tokyo, you'll definitely use it a lot. The look of the trains is really iconic – and don't get me started on the station melodies! Each station has its own jingle when the train arrives. Some are jazzy, some are catchy, and some have a slightly sinister sound. Whenever I hear them it takes me right back, they're so nostalgic.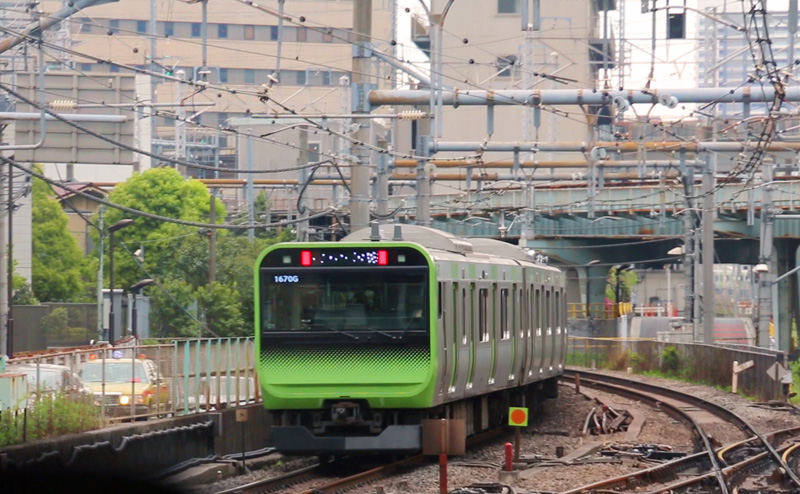 And I love hamsters – to me they're the cutest! So Hamanote Line is a kawaii hamster train – a little friend to join you on your travels, on your lapel, bag or jacket.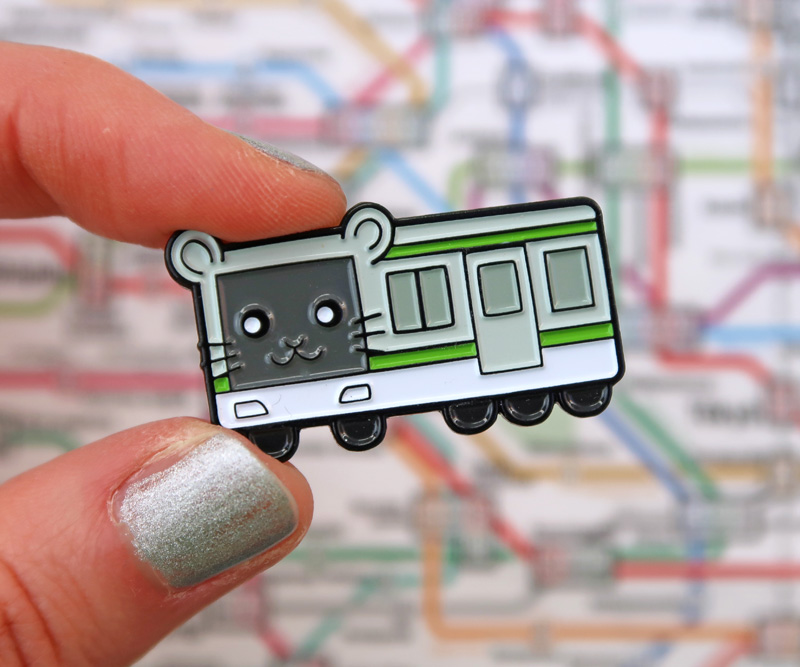 Batchapon
Gachapon capsule toys are one of the best souvenirs from your trip to Japan. They're only 200 or 300 yen, and there are just so many! Each series has 6 or 8 figures, keychains or toys, and it's like a blindbox – you don't know which you're going to get. You can find them everywhere in city centres in Japan, especially around arcades and shops.

Lots of gachapon series are based on anime or popular characters, but the most interesting ones are the random series – some of them are just so strange! New series are always coming out, and I've made a whole collection of videos about them, to share the funniest, strangest and cutest gacha – you can find them all in a playlist on YouTube.
Batchapon is a bat gachapon machine! When I was designing them I tried out different versions (including cat-chapon!) with different ears and feet, and I just found batchapon irresistible with its tiny wings.

I love how colourful it's come out as a pin, with the different coloured capsules. The colour of the machine itself matches the colour of some of the buildings in Akihabara, the otaku area of Tokyo where you find all the anime merch – and LOTS of gachapon! There are shops there with hundreds of gachapon machines and nothing else. You can see lots of them in my Gachapon Challenge video.

Shinkanpin
Japanese trains are awesome! The shinkansen, also known as the bullet train, is the fastest train in Japan and a great way to travel long distance between cities. It's fast, clean and always on time, and one of the best experiences of train travel I've had.
I experimented with different designs making the shinkansen into a cute character, even a crocodile shinkansen!

In the end I decided on quite a simple but friendly and cute version.

Vendpin Machine
There are vending machines everywhere in Japan, mostly selling hot and cold drinks. It's really convenient, and anyone who's been to Japan will definitely have used them every day.
This friendly vending machine is waiting for you, stocked up with delicious beverages. And to make it cuter it has a face, ears and whiskers. I'd originally intended it to be a hamster vending machine, but it could be a mouse, guinea pig or any other type of animal that you think is the cutest.

Pre-order Now
You can pre-order the new pins now. They'll be despatched in the first week of February 2021 (worldwide shipping).
The pins are available individually, or if you order the complete set you get one pin free!