The new "Live Your Best Afterlife" Egyptian t-shirts are now available to pre-order! They'll be despatched mid June 2019:
Live Your Best Afterlife
When I brought out the Party of Your Afterlife Egyptian dresses a few months ago, lots of you asked for a matching t-shirt. So I've been working away on a design, and now here they are!
The design's matching the original dress, featuring many of the same characters (some redrawn in new poses) and the hieroglyphics pattern in the background (look closer – they're not normal hieroglyphics!).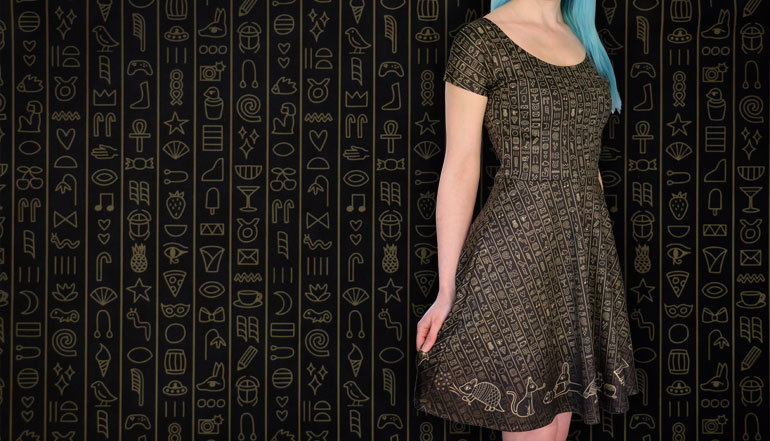 Design Process
You can read more about the inspiration for the Egyptian theme in my blog post about the dresses (including an epic Where's Wally-style Egyptian poster I drew when I was 7).
The t-shirt actually went through a few versions before the design came together. The first drafts were much more similar to the dress, with the same "Party of Your Afterlife" slogan and the creatures in a pattern – but it wasn't quite working for me:
It came together much better when the t-shirt branched off and took on a theme of its own: "Live your Best Afterlife", complementing the original while not 100% the same. The final mood is decadent, LA-meets-ancient Egypt luxury with palm trees and pyramids: taking selfies, popping corks, blasting tunes and indulging in all the snacks.
It features fav characters from the dress (including the hamster!):
T-Shirt Sizes
Like all my t-shirts, it's available in standard/mens sizes and womens slim fit. The womens' are skinny and fitted, with cap sleeves.
Standard/mens:
Small (to fit 34-36″ chest)
Medium (to fit 38-40″ chest)
Large (to fit 42-44″ chest)
XL (to fit 46-48″ chest)
2XL (to fit 50-52″ chest)
Womens slim fit:
Small (UK Size 8-10)
Medium (UK Size 10-12)
Large (UK Size 12-14)
XL (UK Size 14-16)
You can pre-order now, and they'll be sent out mid June. I have several new designs on pre-order at the moment so check them out!